(East Harlem Case Study Below)
There is an overall lack of information for existing and available food resources in New York City (NYC) neighborhoods, which has been exacerbated by the COVID-19 pandemic. Through qualitative interviews conducted by the FPC in the summer of 2020, community members most in need expressed frustration, confusion, and vulnerability around finding food resources for themselves and their families. Poor communication and information-sharing negatively impact efforts to connect food-insecure individuals with food stamps, food banks, soup kitchens, and other food resources. Food insecurity is consistently associated with negative health outcomes making efforts to reduce food insecurity crucial to individual and community health.

However, simply adding new interventions, programming or food access does not necessarily translate to improved health outcomes. Interventions to reduce food insecurity need to incorporate better use of media and other communication channels to improve awareness of existing community food resources. Highlighting and connecting community members to existing food resources is critical, as many community members and health professionals may be unaware of the breadth and variety that already exist.
Hyperlocal Health will use neighborhood social media channels, communication networks and key stakeholder engagement to connect food-insecure community members with existing local food resources
Hyperlocal Health (HLH) is an ecologically focused project created by the Center to link existing food-related resources and programming in NYC to residents from under-resourced neighborhoods through existing local organizations, institutions, and networks (e.g., community-based organizations, hospitals, medical facilities, restaurants, store-owners and supermarkets). Hyperlocal Health uses social media channels, communication networks, and key stakeholder engagement to connect food insecure community members with local food resources. Connecting residents with existing food resources will ensure that available food is used, rather than wasted—as much as 40% of the food supply in the United States is wasted, a figure that could be reduced by feeding hungry people.
The Hunter College NYC Food Policy Center is in a unique position to develop programs such as HLH. Specifically because of our neighborhood food resource guides. In response to the COVID-19 pandemic, the Hunter College NYC Food Policy Center developed the NYC Neighborhood Food Resource Guides for each of NYC's 59 community districts to address these concerns. Each guide includes information specific to the district, such as: food pantries and soup kitchens, grocery stores (store hours and delivery options), meals for older adults and delivery programs, farmers' markets, and SNAP and WIC resources.
Hyperlocal Health creates a sustainable and replicable model that can be used throughout NYC and beyond, advancing health equity in communities of diverse racial, ethnic, and socioeconomic backgrounds.
---
Case Study: Food For East Harlem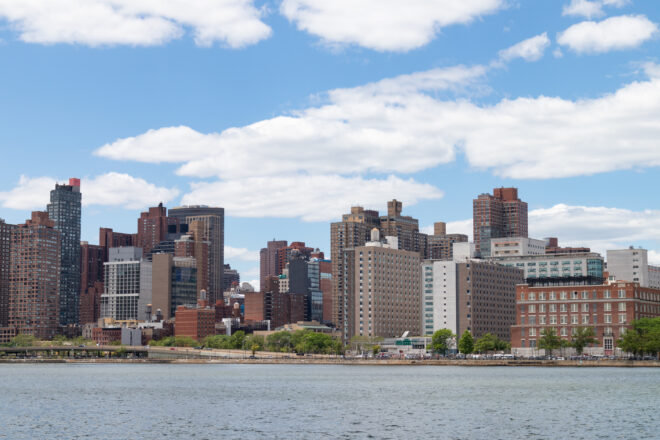 In September 2022, the Center launched the Hyperlocal Health campaign in the pilot neighborhood of East Harlem, under the title Food For East Harlem. This awareness campaign partnered the Center with multiple community organizations and offices located in East Harlem to disseminate designed campaign materials (including flyers, posters, and social media posts). Additionally, Hunter students were recruited to post materials in the public spaces of East Harlem.
Why East Harlem?
According to Data2Go, East Harlem has some of the highest rates of poverty and food insecurity in the country. In East Harlem, 23% of residents live in poverty, compared with 20% of NYC residents. Poverty, along with lack of access to affordable housing and employment opportunities with fair wages and benefits, is closely associated with poor health and food insecurity. More than 22% of East Harlem residents are food insecure compared to 12.9% of NYC residents, and 30.8% of East Harlem residents receive SNAP benefits compared to 22.3% of NYC overall. (Data pulled March 16, 2023.)
Furthermore, the Center is strategically located in Silberman School of Social Work, at Third Ave. and 119th St. This allows the Center to utilize the existing relationships we have developed with East Harlem stakeholders, such as community leaders, elected officials, and grassroots organizations.
The Campaign
The first step in the development of the Food For East Harlem Campaign was creating campaign materials, a process that required the help of organizations and individuals who know the community. The Center solicited the input of key community partners in order to develop campaign materials — social media graphics, posters, and flyers. Additionally, the Center recruited Hunter College students who were tasked with putting up posters and flyers in public spaces throughout the East Harlem community.
With the help of a graphic designer, the Center created 21 distinct materials in English, Spanish and Chinese covering a wide range of topics about food access in East Harlem, such as locations of food pantries, how to enroll in SNAP and WIC, demystifying common misconceptions about SNAP, and more. Posters and flyers were hand-delivered to each partner when requested, who then disseminated materials in whatever way worked for them. Partners were also provided with a digital toolkit that contained links to PDF versions of all flyers and posters, as well as social media graphics and suggested captions for partners to post if they so chose.
The Community Partners

Little Sisters of the Assumption Family Health Service is a community organization that provides food, healthcare, and educational resources to families in need in East Harlem. They operate a food pantry on Wednesdays that serves about 100 families each week.

GrowNYC is an environmental nonprofit that operates more than 50 farmers' markets across the five boroughs, including two seasonal markets in East Harlem: the Mount Sinai Greenmarket and the PS 57 Farmstand.

Wellfare is a nonprofit organization that provides a monthly subscription-style box of packaged groceries to residents of NYCHA facilities for free. They currently operate at NYCHA buildings in Bushwick and East Harlem.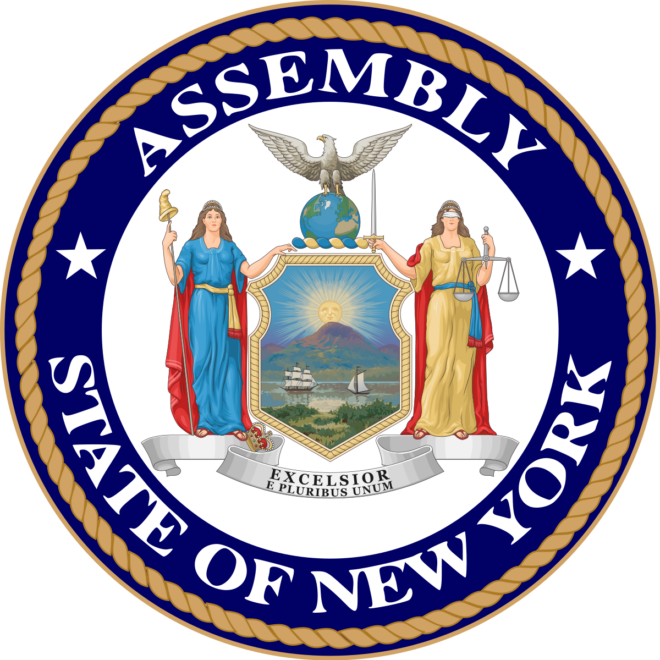 Assemblymember Eddie Gibbs represents District 68 in the New York State Assembly, including East Harlem, Randall's Island, and parts of the Upper East Side and Central Harlem.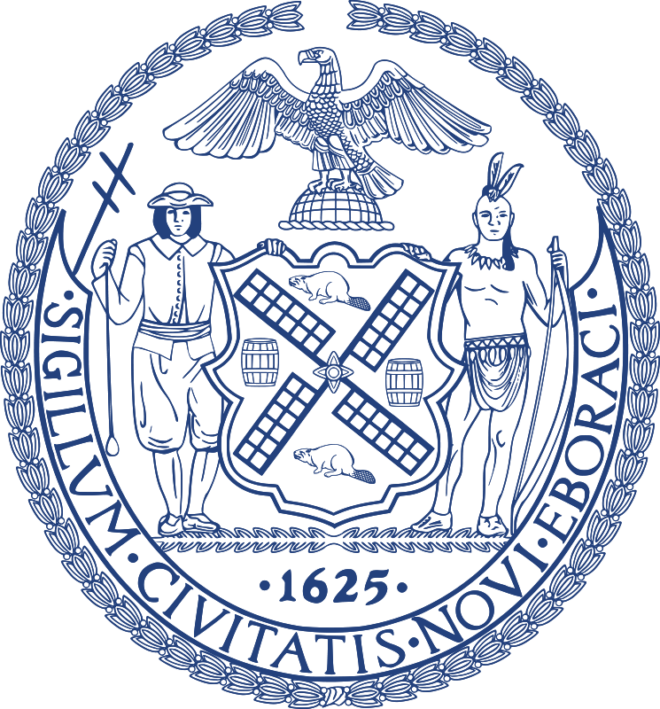 City Council Deputy Speaker Diana Ayala represents Manhattan's District 8, including East Harlem, Mott Haven, Highbridge, Concourse, Longwood, and Port Morris.
Distribution of Printed Materials by Partners
Researchers allowed partners to determine the most effective way to distribute materials, and each partner had a different approach. Some partners handed out flyers through their food distribution programs, while others displayed posters in prominent locations.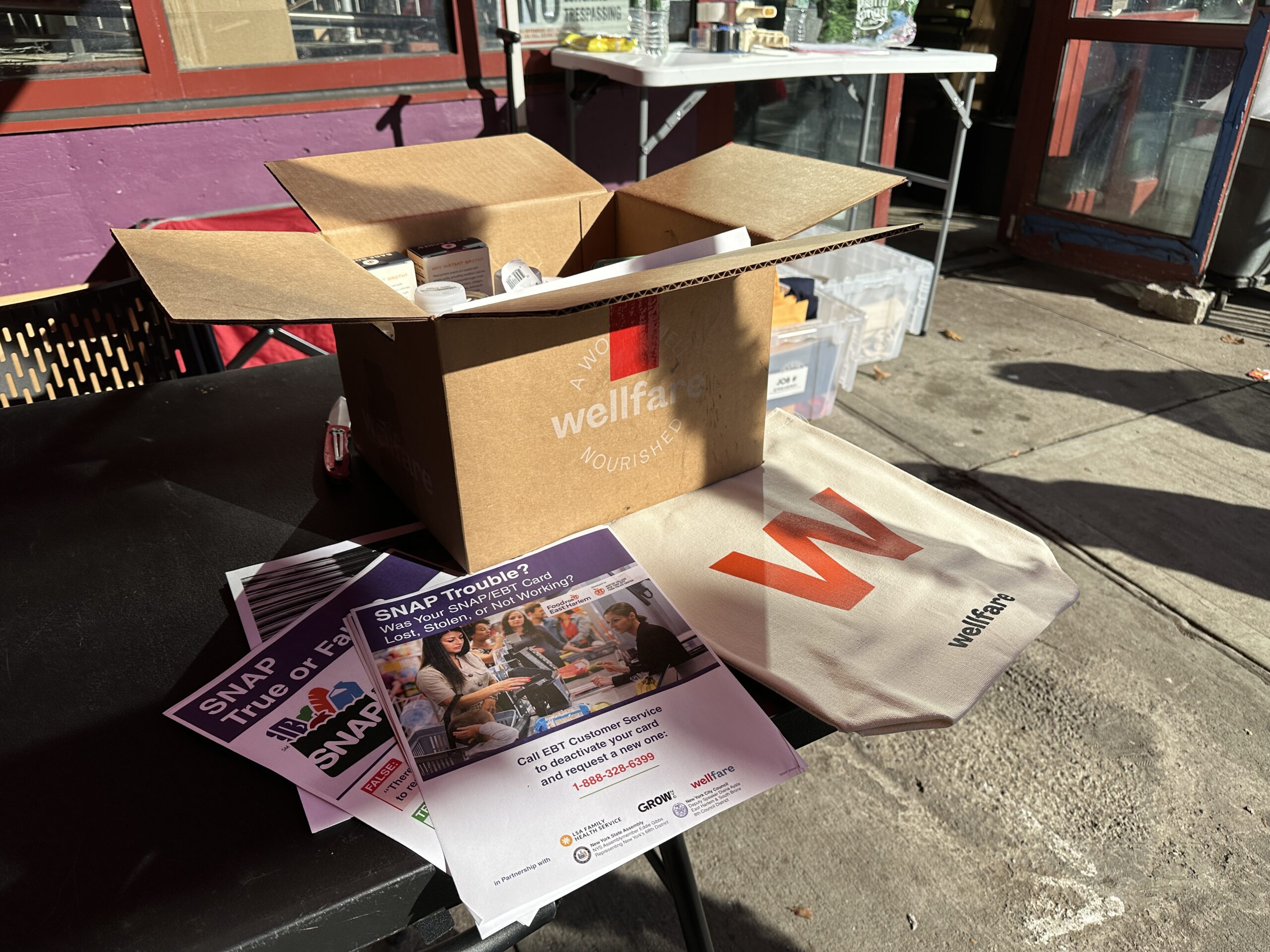 Social Media Posting by Partners
Community partners posted materials to their social media accounts, including Instagram, Facebook, Twitter, and LinkedIn. Across the platforms at partners, social media posts received more than 224 "Likes" and 19 "Shares"/"Retweets". Some partners noted that social media was not as effective for their audience as flyers and posters were, and therefore chose to focus on disseminating physical materials instead.
Flyering in East Harlem
The Center also recruited the assistance of Hunter College students, both graduate and undergraduate, to put flyers and posters up on telephone poles throughout the neighborhood. Across 29 walking shifts, students posted more than 1,000 flyers and 500 posters in the East Harlem community. On their walking routes, various students reported engaging in conversations with East Harlem residents curious about the campaign. Residents took copies home and praised the work being done.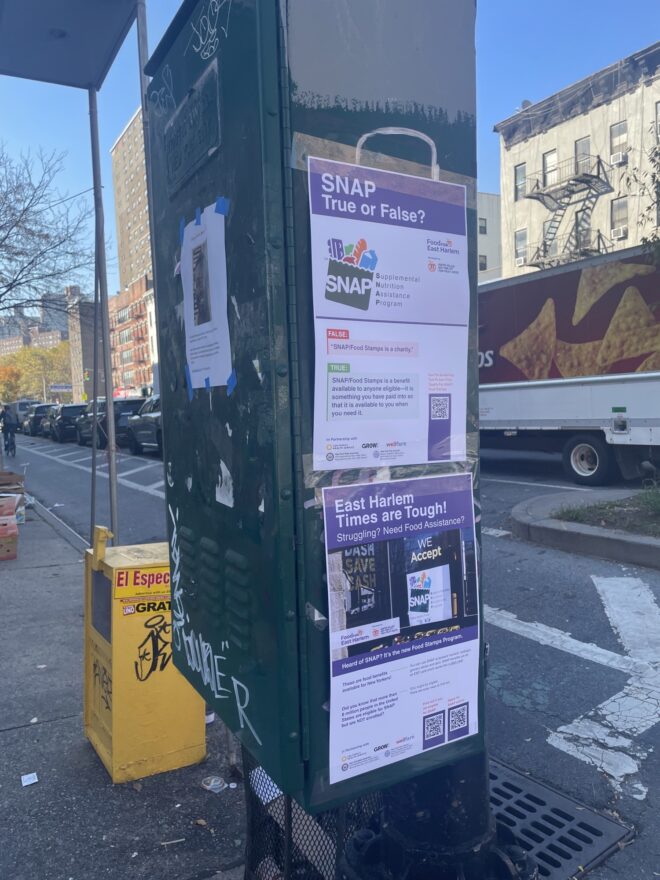 Disclaimer: After the campaign concluded, we learned that taping flyers/posters to telephone poles is illegal in NYC, and will result in a $75 fine. Future Hyperlocal Health campaigns in other communities will therefore not use this dissemination method. Public locations to post in future Hyperlocal Health campaigns include community boards in libraries, schools, grocery stores, and municipal buildings; local businesses that agree to the display of materials (such as laundromats, bodegas, and coffee shops); and construction sites (with permission from the construction company).
Campaign Feedback
Distribution of materials by both community partners and students contributed to a more than 100% increase in traffic to the East Harlem Resource Guide.
Community partners provided positive feedback after completion of the campaign:
I had a very positive experience. I loved the material that was provided. I think it was very useful to our community, and I'm going to continue to use it.

Lucia Aguilar, Director of Advocacy, LSA Family Health Service
This is exactly the type of stuff for us…this was the best type of resource. We're talking about signing up for SNAP or finding local resources or local spots that you can go to in the neighborhood. I really loved it.

Cole Riley, Founder and CEO, Wellfare
Many Greenmarkets have seen an uptick in questions around food insecurity and resources…We have some markets where, more than others, people are looking for that content. I think it's an incredible resource, and figuring it out across the city and keeping it updated would be helpful for us.

Liz Carollo, Assistant Director of Food Access & Agriculture, GrowNYC
Students who assisted with flyering also expressed that participating in the campaign was positive for them:
My experience as a participant in Hyperlocal Health has taught me that every small action in public health can have a big impact on the target community. Practically helping the community members by informing them about the local resources in the flyer distribution process allowed me to actively engage with the community that we all at Hunter are a part of.

Anika Chowdhury, B.S. Public Health, S'23
As an international student, I feel honored to do volunteering with Hyperlocal Health. I learned more about SNAP, where to eat out in East Harlem, where to get food credits, and more about food pantries especially about skipping the line with Plentiful. People were welcome and asked more questions about what we did and were thankful. The information on the flyers and brochures will help many.

Morina Turnip, B.S. Public Health, S'24
---
Interested in Participating?
If you are part of an organization located in East Harlem and would like to distribute materials, please download materials from the table below for FREE. And if you distribute materials, we would love to hear from you! Please email us at info@nycfoodpolicy.org to tell us about how you used the materials!
If you are part of an organization NOT located in East Harlem and would like to be part of another Hyperlocal Health campaign, please contact us at info@nycfoodpolicy.org to share a bit about your organization and community.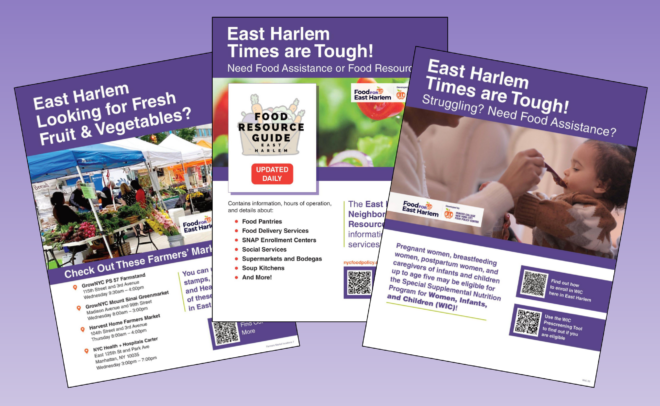 8.5×11 Flyers
11×17 Posters
Social Media Graphics
| | | | |
| --- | --- | --- | --- |
| | English | Spanish | Chinese |
| East Harlem Food Resource Guide | v1, v2 | v1, v2 | v1, v2 |
| Food Pantry Locations | v1, v2, v3, v4 | v1, v2, v3, v4 | v1, v2, v3, v4 |
| Soup Kitchen Locations | v1, v2, v3, v4 | v1, v2, v3, v4 | v1, v2, v3, v4 |
| East Harlem Restaurant Guide | v1, v2 | v1, v2 | v1, v2 |
| Farmers' Market Locations | v1, v2 | v1, v2 | v1, v2 |
| What is SNAP? | v1, v2 | v1, v2 | v1, v2 |
| Health Bucks and Farmers' Markets | v1, v2, v3, v4 | v1, v2, v3, v4 | v1, v2, v3, v4 |
| SNAP Enrollment Centers | v1, v2 | v1, v2 | v1, v2 |
| WIC Enrollment Centers | v1, v2 | v1, v2 | v1, v2 |
| SNAP Troubles: Fair Hearing | v1, v2 | v1, v2 | v1, v2 |
| SNAP Troubles: Customer Service Line | HERE | HERE | HERE |
| How to Use Plentiful | v1, v2 | v1, v2 | v1, v2 |
| SNAP True or False: Citizenship | HERE | HERE | HERE |
| SNAP True or False: Embarrassing | HERE | HERE | HERE |
| SNAP True or False: Not Enough | HERE | HERE | HERE |
| SNAP True or False: Charity | HERE | HERE | HERE |
| SNAP True or False: Working | HERE | HERE | HERE |
| SNAP True or False: Mailing Address | HERE | HERE | HERE |
| SNAP True or False: Pay Back | HERE | HERE | HERE |
| SNAP True or False: CFS | HERE | HERE | HERE |