Agriculture is a critical component of New York State's economy. The food grown in the state provides many benefits to residents of New York City including employment, tax revenue, access to fresh and local food, open space preservation, farmers markets and tourism. A recent publication from NYS Comptroller Thomas P. DiNapoli, The Importance of Agriculture to the New York State Economy, summarizes statewide data from the 2012 USDA Census of Agriculture. Here we highlight some key numbers related to food jobs, economic growth and impact, agricultural commodities and urban agriculture.
$5.4 BILLION IN AGRICULTURAL COMMODITY SALES 
The broadest measure of direct economic activity from farming shows more than $5.4 billion in agricultural commodity sales in New York during 2012, an increase of more than 22 percent from 2007. [1] Though New York ranks 26th among the 50 states for total value of agricultural sales, it ranks in the top ten for a number of agricultural commodities.
$37.6 BILLION AGRICULTURAL IMPACT IN 2011
While farming's overall economic impact is important, the majority of farmers do not generate significant revenue from farm income. In 2012, slightly more than 50 percent of New York farms had sales of less than $10,000. Including impacts from agriculture support industries and industries that process agricultural products, the total estimated agricultural impact was $37.6 billion in 2011. [2]
35,500 FARMS LOCATED IN NEW YORK STATE IN 2012
As of 2012, New York was home to more than 35,500 farms located in every region of the State, including New York City. During 2012, almost 56,000 New Yorkers were farm operators and nearly 61,000 other individuals were employed as hired farm labor during the year. Along with the declining number of farms in New York, the number of farmers has also fallen since 2007.
New York City is home to 31 farms, located in all boroughs except Manhattan. Most of these farms are less than 10 acres in size, and predominantly have sales of nursery stock and floriculture.
$2.4 BILLION IN SALES OF COWS' MILK IN NEW YORK
Cows' milk is by far the largest agricultural commodity in New York, with sales topping $2.4 billion, representing more than 44 percent of the State's total sales in 2012.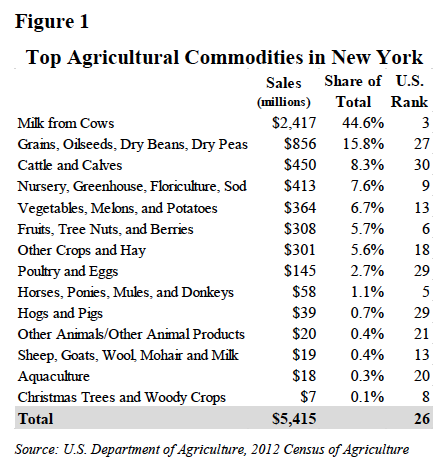 REFERENCES:
1. Data for the Comptroller's report is drawn primarily from the U.S. Department of Agriculture (USDA) Census of Agriculture (most recently 2012) and supplemented by data from the USDA Agricultural Statistics Service.
2. Schmit, Todd. "The Contribution of Agriculture to the New York Economy." Research & Policy Brief Series. Community & Regional Development Institute. Ithaca: Cornell University, August 2014.