Art and agriculture share a crucial connection that has inspired land preservation. Agricultural art is deeply rooted in the intersection of artistic expression, cultural identity, and the changing agricultural landscape.
The Hudson River School, a mid-19th-century American art movement, provides a classic example of how artists found inspiration in the beauty of landscapes shaped by agriculture. Artists such as Thomas Cole and Frederic Edwin Church captured the awe-inspiring scenery of the Hudson River Valley, portraying the marriage of nature and cultivation. The tradition of expressing the serenity of rural life and the dynamic relationships among people, food, nature and wilderness continues to this day.
Mikaela Perry, a contemporary artist and Policy Manager for the American Farmland Trust (AFT), a nonprofit that sustains and protects farmland, often features agricultural subjects in her work.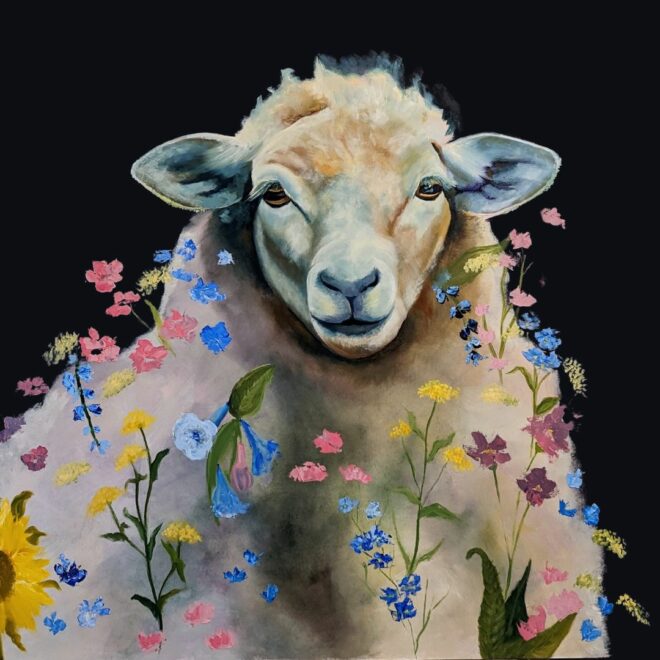 Perry's most recent series, "Memories in Bloom", debuting at Solas Studio in New York City on Saturday, November 4th, 2023, is a poignant collection of oil paintings that serves as both a eulogy and a celebration of life for farm animals and the cherished land that has profoundly influenced Perry's journey as an artist.
The inspiration for the collection was Perry's loss of her family's farm. "Memories in Bloom" endeavors to encapsulate and immortalize Perry's family farm, offering a tangible record of the emotional landscape shaped by her connection to the animals, and the land. The collection of paintings tells a tale of life's cyclical nature—embracing moments of birth and death, growth and decay, and finding beauty in every phase.
Ariel Zakarison, an artist and regenerative farmer, explores the intersection of art and agriculture by creating sculptures and paintings inspired by her family's 600-acre grain farm in Washington state. Facing the challenge created by wind and water erosion, Zakarison's family decided to start farming regeneratively, an agricultural approach focused on restoring and enhancing soil health, biodiversity, and ecosystem resilience through practices like minimal soil disturbance, cover cropping, crop rotation, and reduced chemical inputs to create a more sustainable and environmentally friendly farming system. Zakarison's family stopped tilling the land and started planting a diversity of grains they sell as feed to local meat, dairy, and egg producers.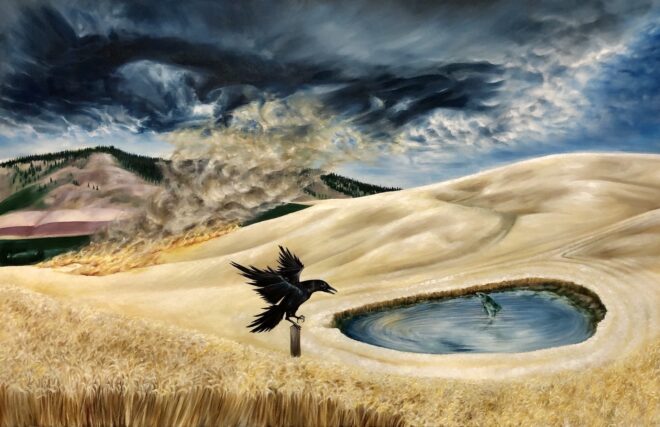 Zakarison's artworks depict the balance between human cultivation and the biodiversity of regenerative farming by illustrating wild fish and birds in fields of diversified wheat. Using materials sourced from the land, such as scrap iron, snake skins, and cotton cloth, in her sculptures, Zakarison connects viewers of her art with the natural world. The diverse agricultural landscapes depicted in her paintings are intended to advocate for the preservation of family farms like hers.
The work of artists like Perry and Zakarison, in and of itself, brings attention to the need for sustainable farming and the preservation of rural landscapes, by offering a visual testament to the beauty that could be lost to urbanization and industrialization.
Landscapes for Land Sakes, is an annual event hosted by the Agricultural Stewardship Association that raises funds to conserve more than 30,000 acres on 170 properties in Washington and Rensselaer counties in New York for future generations. Together, Washington and Renssealer counties contribute four percent of New York State's diverse agricultural product sales, including beef, maple syrup, and apples. Initiatives like this exemplify how art and artists can actively contribute to the conservation of farmland.
The Storm King Art Center, a sculpture park in Orange County, New York, is another example of the intersection between art and farmland. Storm King, which sits on 500 acres of land, was farmed for over 200 years, until agriculture in the Hudson Valley became unprofitable as a result of westward expansion. In 1996, Storm King launched a program to reintroduce native long grasses and wildflowers into their fields. Artists like Maya Lin have used the vast, open spaces of Storm King to create a monumental work of earth art that resembles the farmland's rolling landscape. This dynamic relationship between art and the environment reinforces the importance of preserving natural spaces.
As artists translate the essence of rural life into works of art, they contribute to a cultural narrative. A narrative that emphasizes the intrinsic value of agricultural land and underscores the importance of sustaining the environments that fuel both artistic creativity and essential agricultural practices by showcasing how the two mutually benefit and contribute to the overall well-being of communities and ecosystems.