Wondering About Career Options in Public Health?
Want to Expand Your Professional Network?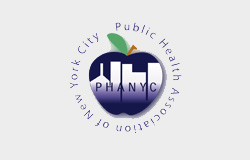 Career Forum 2014
Monday, November 10, 2014
Presenters and Breakout Session Leaders:
• Sara Gardner, MPH – Fund for Public Health
• Ana Garcia, MPA – New York Academy of Medicine
• Terri Jackson, MA- Rabin Martin
• Michelle Davis, PhD, MSPH – U.S. Department of Health and Human Services
• Ashish Joshi, MD, PhD – CUNY School of Public Health at Hunter College
Overview 
5:30PM-6:10PM- Registration and Networking
6:15PM-7:30PM – Presentations
7:40PM-9:00PM- Breakout Sessions
Location  – CUNY School of Public Health at Hunter College
119th Street and Third Avenue
Cost  – PHANYC Student Member* ($10); Professional Member* ($15);
Non-Member Student ($15); Non-Member Professional ($20)
To Register: https://tinyurl.com/PHANYCCareerNight2014
 Light refreshments will be available
PHANYC has a long history of strong, savvy advocacy in defense of public health services and quality health care for all people in New York City, particularly people whose access to medical care is often limited — the poor, women, minorities, the elderly, children.
PHANYC is also a large network of hundreds of professionals who support public health goals and work at all levels of the health care delivery system. Members can become valuable sources of support and career contacts. When something happens on the health scene — from a new policy development to a new job opening — someone in PHANYC knows about it.
*Join PHANYC for year-round career networking and enjoy discounts on all programs!
Visit:www.phanyc.org/membership