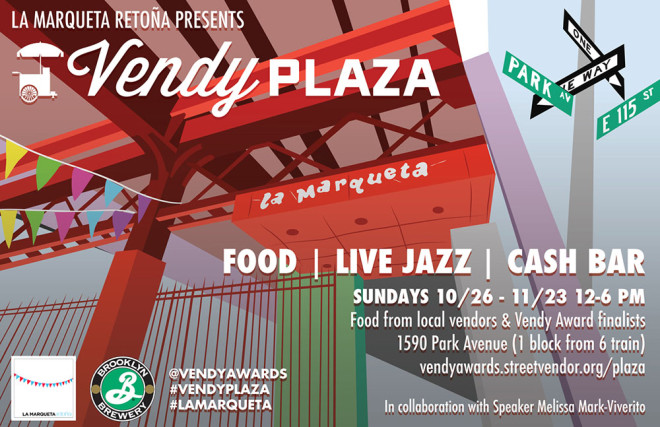 Every Sunday through November 23rd, Vendy Plaza will come to East Harlem's La Marqueta on 115th street and Park avenue. The event started last Sunday where dozen of visitors enjoyed music and food from New York's top Food Trucks.  Vendy Plaza  is presented by La Marqueta Retoña, Vendy Awards and Office of the Speaker Melissa Mark-Viverito, this unique outdoor food market concept will feature Vendy Award finalists, winners, and local vendors.  Come out and enjoy Food truck vendors, Live Latin-Jazz-Fusion by TROMBEATZ, and beer from Brooklyn Brewery from 12 noon and 6 pm.
The Vendy Plaza will feature a rotating list of vendors, including:
Khao Man Gai (2013 Market Winner)
 Ice & Vice (2014 Dessert Winner)
 Martha's Gorditas (Local Vendor)
 Macarena's Elotes (Local Vendor)
 Nuchas (2014 People's Choice)
 Snowday (2014 Rookie of the Year)
 Wafels & Dinges (2009 Dessert Winner)
 Zha Pan Asian (2014 Market Winner)
& More!
About the  presenters
La Marqueta Retoña is an initiative to revive the social and cultural elements of this historical site through the arts, music and community activities.  A series of events are scheduled to take place at the outdoor space known as "La Placita" as well as in the main indoor space of La Marqueta both located underneath the Park Avenue elevated train station between 115th and 116th Streets in El Barrio with aim to celebrate Latin culture, educate and instill a scence pride in the next generation of residence living in El Barrio.
The Vendys are a fundraiser organized by the Street Vendor Project, a membership-based non-profit organization that stands up for vendors' rights. The Vendys are the first street food event and competition series in the USA, providing a forum for vendors to compete for the title of Best Street food.
Outside of New York, The Vendys partners with local organizations that support street vendors and/or sustainable food issues in each host city