Farms, Stores, and Dinner Tables: How to shape healthy food policy in your community
Are you concerned about access to healthy food in your community but wonder if there is a way to really make a difference? The route to healthier food policies starts with you.
Date: Monday, November 24
Time: 2:30-3:30 p.m. EST
This online discussion using Google+ Hangouts offers a unique opportunity to meet local food policy advocates and experts to learn about the decisions and influences behind the policies that shape your access to healthy food. Through their stories, lessons learned, and answers to your questions, presenters will help demystify the often overwhelming world of food policy and provide practical advice on how to be an effective advocate for healthy food policy in your neighborhood.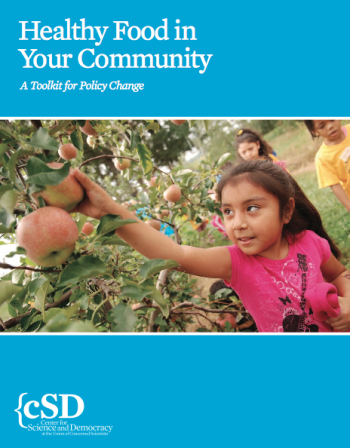 You have the opportunity to be a part of the decisions that shape access to healthy, affordable food in your community—join this online discussion to learn how.
The discussion will be moderated by Pallavi Phartiyal, program manager and senior scientist, Center for Science and Democracy, Union of Concerned Scientists. Participants include:
• Paula Daniels, founder and executive director, Los Angeles Food Policy Council;
• Yael Lehmann, executive director, The Food Trust; and
• Parke Wilde, Tufts University Friedman School of Nutrition and Food Policy.
Click here to register for this event>>>