Zero-Waste Stores That Are Disrupting Grocery Shopping in NYC
By Deirdre Appel
Food waste is not just a product of the kitchen. It is an issue that permeates our shopping experience as much as it does our cooking. Luckily, there is a heightened sense of awareness about eliminating disposable food items in New York City: single-use plastic shopping bags are on their way out, restaurants are focusing on sustainable cooking practices, and hundreds will gather Thursday, May 23, at the Brooklyn Navy Yard for a Food Waste Fair. This is welcome progress when you consider that the retail food industry generates 8 million tons of food waste a year, and 23 percent of our landfill waste is attributable to containers and packaging.
Below, we round up a list of retailers in the city that are on a mission to reduce the amount of food and plastic packaging waste in their stores and in your kitchen. The goal for all of such efforts? To never again see a banana wrapped in plastic and styrofoam in any grocery store.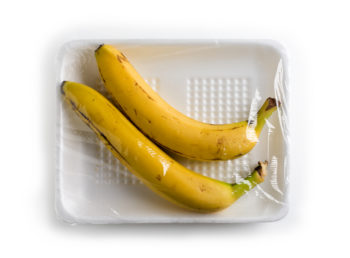 The Fillery
Location: Online for now as the store is in the midst of relocating in Brooklyn
Hours: N/A
How they embrace waste-free shopping: The Fillery is your neighborhood bulk food shop, geared to filling pantries with fairly priced, healthy, and responsibly sourced food and household products. They believe good goods should be accessible to all and strive to minimize unnecessary packaging and waste, thereby reducing customers' impact on the environment. The owner drew inspiration from a bulk store in Ann Arbor, Michigan, called By the Pound. After nearly 10 years in Brooklyn where she struggled to find a comparable concept, she decided to take matters into her own hands and open one herself. The Fillery currently offers online shopping but will soon be reopening their store at a new location in Brooklyn.
Follow along on social media: @thefillery
4th Street Food Co-op
Location: 58 East 4th Street, New York, NY 10003
Hours: Vary daily: Monday: 10:00AM–9:30PM; Tuesday: 9:00AM–9:30PM; Wednesday: 10:00AM–9:30PM; Thursday: 10:00AM–9:30PM; Friday: 10:00AM–7:30PM; Saturday: 10:00AM–5:30PM; Sunday: 12:00PM–8:30PM
How they embrace waste-free shopping: Many food cooperatives throughout New York City offer waste-free shopping in some capacity through their bulk food options. The 4th Street Food Co-Op takes this a step further by offering a range of the usual bulk products such as teas, beans, grains, nuts, and herbs as well as those that are more difficult to find, such as oils, vinegars, and sauces. They sell airtight stainless steel food-storage containers and reusable produce bags for those who need (or forgot to bring!) shopping containers.
Follow on social media: @4thstreetfoodcoop
GrowNYC Greenmarkets
Location(s): 51 market locations in the five boroughs; several locations operate multiple days per week
Hours: Vary based on location
How they embrace waste-free shopping: In addition to the handful of waste-free stores that are popping up around New York City, those searching for a less wasteful shopping experience can also visit one of the many GrowNYC Farmers Markets that are held throughout the week in various locations across the city. Farmers markets offer customers a chance to buy produce plastic-free in bulk, and many locations also provide recycle programs such as textile recycling and composting.
Follow on social media: @GrowNYC
Loop Store
Location: Online
Hours: 24/7
How they embrace waste-free shopping: Loop is a shopping platform designed to eliminate waste by transforming the packaging of everyday items from single-use to durable, multi-use, feature-packed designs. In partnership with major brands and retailers such as Unilever, Nestle, and Procter & Gamble, Loop is launching in the New York City metro-area and is in the process of expanding across the United States and internationally, including the United Kingdom, Canada, Germany, and Japan. Customers shop for their partners brands through Loop's platform. There are no monthly membership fees or subscriptions; just a small fully refundable one-time deposit for the reusable containers. Customers then receive the products such as shampoo in a stainless steel container in an exclusively designed Loop Tote, a zero-waste delivery system that eliminates disposable, single-use shipping materials. After delivery and use of the product, customers simply place used packages and containers back into the Loop Tote and schedule a free pick up from their home.
Follow on social media: @loopstore_us
Package Free Shop
Location: 137 Grand St, Brooklyn, NY 11249
Hours: Daily, 11:00AM-7:00PM
How they embrace waste-free shopping: Package Free Shop sells eco-friendly, plastic-free products to help customers live a zero waste, minimalist, and low impact lifestyle. All the products they sell are sourced from individuals and brands with an inspiration to promote a more sustainable, waste-free culture. The store sells items that eliminate waste from food such as a zero waste lunch kit, produce bags, stainless steel food containers, beeswax food wrap, and stainless steel straws. If you order online, all shipments are packaged and shipped plastic-free. At their Package Free Williamsburg location, they have teamed up with a recycling company called Terracycle to provide stores with bins so that people can bring in hard-to-recycle or non-recyclable items such as electronic waste like cell-phones, computer cables, and printers among others, to be disposed of responsibly. Follow along on social media: @packagefreeshop
Precycle NYC
Location: 321 Starr Street, Brooklyn, New York 11237 (Entrance is on Cypress)
Hours: Daily, 10AM-8PM
How they embrace waste-free shopping: Opening its doors in December 2018, Precycle is the first store in New York selling package-free produce, bulk food and home goods. Precycle aims to address the growing problem of plastic pollution by empowering customers to make different, yet still convenient choices that reduce food and packaging waste. They carry an extensive range  of products including seasonal produce, oils and vinegars, and even bulk snacks such as granola and chocolate covered almonds.
Follow along on social media: @precyclenyc
The Wally Shop
Location: Online grocery store currently serving these zip codes
Hours: The online shop is always open but orders are delivered between 6PM-8PM
How they embrace waste-free shopping: The Wally Shop is changing up the grocery game with deliveries that come straight to your door. While a trash-free trip to the store might seem impossible, The Wally Shop's all-reusable packaging and same-day delivery means that ordering groceries can be sustainable and convenient. Here is how it works. A customer opens an account, shops online for groceries, and receives their package (everything comes in reusable materials) that same day. Once finished, the customer simply returns the packaging to a courier making a future delivery and gets their deposit back as a store credit. The Wally Shop works with local stores and farmers markets to provide the freshest, most organic ingredients.
Follow along on social media: @thewallshop
And for those days when you can't make it to a farmers market or a store in Brooklyn, remember that many chains including Whole Foods feature a wide selection of bulk items that allow you to make a difference and embrace a waste-free shopping experience.
Is there a zero waste store near you? Let us know if we missed your favorite.