As 2015 comes to a close, we've found ourselves reflecting on the big changes in the local, regional and national food landscape this year and wondering what's coming down the bend. We spoke with six agents of change from across the food movement representing a range of stakeholders, from farmers (rural and urban) and farmers markets, urban farms, restaurants and caterers, to academics and advocates, local government and public health professionals, and asked:
What are emerging trends in the food movement?
What is one action each of us can take to engage with the food movement?
This report is adapted from a panel presentation presentation held at the Fashion Institute of Technology on November 18th, 2015 and moderated by Ashley Rafalow, NYC Food Policy Center.

Our panel
Trends
AC: There is increasing effort to identify and develop strategies that address the systemic barriers to healthy food access that disproportionately impact some communities.
KF: The 'Fight for $15' is gaining momentum (having won a victory in New York State), and the movement toward no tipping, raising kitchen salaries, and greater equity for restaurant staff is growing stronger. Consumers are also asking for healthier options, and we're seeing the rise of healthier fast casual chains like Dig Inn and others.
MG: The food movement, at its core, is as an education campaign and it's time to turn our attention to the workers in local and alternative food production. Smaller farming regions around the country have workers who experience the same conditions as those on factory farms and the same way consumers pushed for organic and animal welfare, we can help improve working conditions.
LM: Farmers markets are more popular than ever today and we should build on this enthusiasm for local to get these products into more hospitals, schools, grocery stores and restaurants. Creating opportunities for family farmers in the wholesale marketplace is what can really help access to local foods scale up and reach more communities.  
FM: Unhealthy foods have been aggressively marketed to youth in traditional media (television, magazine, radio and billboard ads and product placements in programs and movies) and exposure to such marketing is linked with unhealthy food consumption. Digital marketing of unhealthy foods has expanded the reach of advertisers, especially in social media. Social media marketing is cheap and companies can get users to promote their brands at no cost.
RS: In Urban Agriculture, we're seeing an increased curiosity on both the producer and consumer side about how to maximize the use urban spaces to grow food.  People seem more accepting of food grown in cities, as well as more able to see all the available space surrounding them. Most importantly, though, urban agriculture allows for constant interaction between producers and consumers, which ultimately allows for an incredible educational dynamic. I imagine we'll continue to see more and more urban food production of all types in years to come: mushrooms, bees… seaweed and oysters!
Opportunities for Individual Engagement
AC: Ask for healthy food in your local store. That's how change starts.
KF: Cook a meal, bring people around a table to share a meal and conversation.
MG: Start the conversation- who touched your food before it got to your plate? Check out Vermont's Milk with Dignity Campaign.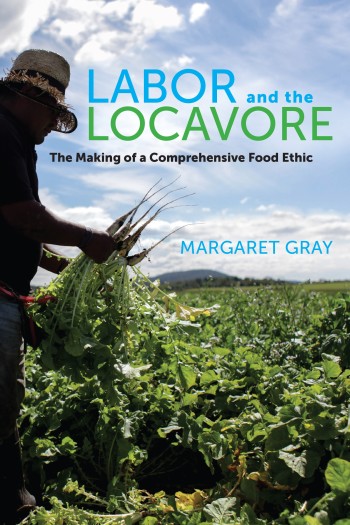 LM: Educate yourself- what does local mean? Your dollar is voting power.
FM: Instituting policies to reduce unhealthy food marketing exposure would make the greatest impact.  However, individuals can play a role. Companies should have to pay for the eyes and ears of consumers.  Don't become free marketing by following, RTing, "liking" or re-posting unhealthy Big Food messages. Research shows televised food advertising impacts eating behavior so don't watch TV while eating. If you're a parent or caregiver minimize your child's exposure to programming that contains food ads and don't put a TV in your child's bedroom.
RS: Choose items with less packaging. And eat more seaweed.