How does food figure into NYC's new sustainability and equity blueprint?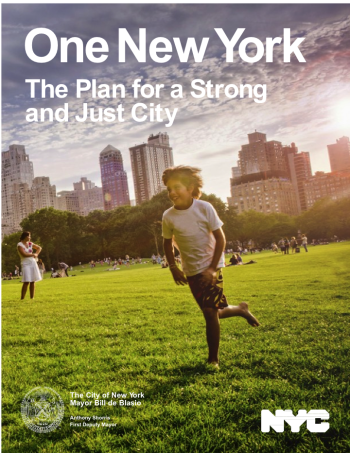 One New York is the de Blasio administration's plan for a "strong and just City," a comprehensive plan for a sustainable and resilient city for all New Yorkers that addresses the profound social, economic, and environmental challenges that face our city. OneNYC builds on prior long-term sustainability plans for New York City, expanding on the critical targets established under previous plans, as well as on the work of the de Blasio administration over the last 16 months. Below, we summarize those sections of the plan that take up food issues.
The OneNYC report is organized by four visions, and several goals and goal specific indicators and targets under each of these visions. While goals are only indicated if certain initiatives addressed food, all goal specific indicators and targets are included as it was not always clear in the report which indicators would be used to measure which initiatives.
We invite you to share your ideas, questions and opinions on these initiatives in our community discussion forum. Or, please send your 2-3 sentence response to info@nycfoodpolicy.org and we'll post them here.
Read Nevin Cohen's compilation of food initiatives in the 2011 PlaNYC update.
[gview file="https://nycfoodpolicy.org/wp-content/uploads/2015/05/Food-and-One-New-York.pdf"]