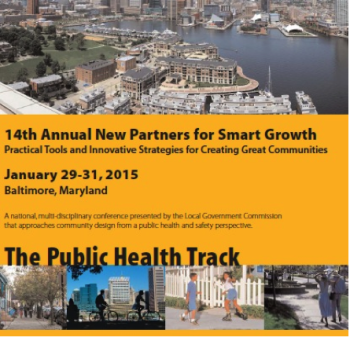 On January 28, Center Director Nick Freudenberg presented at the Annual New Partners for Smart Growth in Baltimore, Maryland. He was a panelist at the closing plenary of the Pre-Conference Workshop on Advancing Local and Regional Food Systems: Opportunities to Grow Resilient, Equitable Communities. Other panelists were Kate Fitzgerald from Fitzgerald-Canepa LLC, Eleanor Starmer from the USDA, Celeste James from Kaiser Permanente of the Mid-Atlantic States, and Simran Noor from the Center for Social Inclusion. His remarks follow.
In the coming years, those of us working in food policy and the food justice movement need to find common goals to advance our work. Such goals will not replace what we are already doing but rather bring together the many strands of food work that are now often separate and therefore less effective. The proposed goal: grow the public sector in food.
More specifically, we should find ways to expand the voice of the public, especially municipal governments, in using their resources and mandates to achieve five goals:
Promote health and reduce diet-related diseases
Reduce hunger and food insecurity
Use food as a tool for job creation and community and economic development
Encourage more sustainable agriculture and food policies so as to reduce our food systems carbon footprint, food-related pollution and food waste
Promote a more equitable and democratic food system.
What is the public sector in food? It can be defined as all parts of the food system that depend on taxpayer dollars, public subsidies or taxes, or are touched by the hands of public sector workers. It includes:
Food procurement and institutional food in schools, child care, senior centers, hospitals and jails
Food benefit programs like SNAP or WIC
Food subsidies and taxes at the local, state and federal levels
Government regulatory programs for food safety, health, retail practices and consumer protections at all levels of government
Nutrition education programs in schools, communities and other public settings
Each year, our governments spend tens of billions of public dollars on food and employ hundreds of thousands of public workers to make, serve or protect our food.   Our problem is not that we lack a public sector—it's that we fail to use it to achieve public goals and to remedy the market failures of the profit-driven private food sector.
What are these market failures? We all know them well: epidemics of diet-related diseases, rising rates of food insecurity, relentless promotion of unhealthy food, high levels of food waste and a food system that contributes significantly to global warming.
In classical economic theory, it is the obligation of government to step in when markets fail to meet human needs or match supply and demand. Unlike markets, the public sector can make democracy and equity priorities.
Growing the public sector in food is good public policy, based on solid evidence that it can contribute to achieving public goals. In the long run, it is also good politics because it can bring together the many populations harmed by a market dominated food system. Defining our aim this way can help food policy advocates and the food movement to explain to policy makers and the public who we are and what we stand for, whether we work in urban agriculture, school food, organizing food workers, or protecting farmland. A strong public food sector can also create an expanding and vibrant alternative to the market-driven private sector in food.
Here are six policy goals for growing a stronger public sector in food:
Foster healthy procurement policies
Improve and provide an infrastructure for regional food markets and food hubs
Improve and expand accurate public nutrition education
Expand and encourage healthier use of nutrition benefits
Grow public sector good food jobs and provide a public infrastructure for food workforce development
Redirect agricultural subsidies and taxes to maximize public goals.
Achieving each of these goals can contribute to restoring our democracy and promoting a more equitable food system.
In education, health care, policing and transportation, we acknowledge the benefits of the public sector and its capacity to promote equity and achieve other public goals. It's time to bring that perspective to our food system.   
Additional resources on the public sector in food:
Videos and resources from Food Policy for Breakfast: Growing the Public Food Sector in New York City, April 1, 2014
Freudenberg N. How Better U.S. Food Policies Could Foster Improved Health, Safer Jobs, and a More Sustainable Environment