On Thursday, August 7th, hundreds gathered for the kick-off celebration of La Marqueta Retoña (Reblooming) in La Placita across from La Marqueta.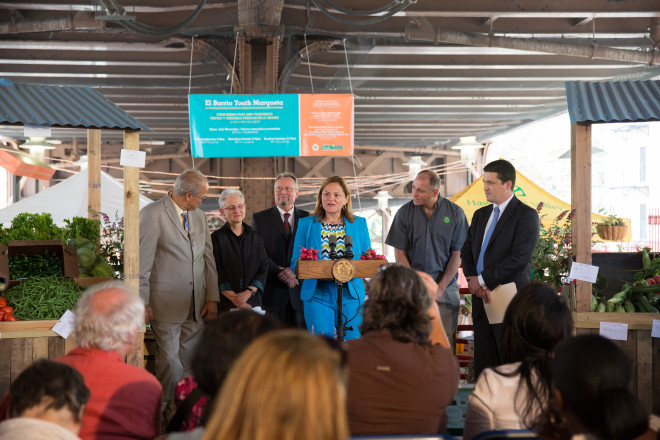 This initiative, led by City Council Speaker Melissa Mark-Viverito marks the collaboration of Speaker Mark-Viverito, the New York City Council, the State Department of Agriculture, Empire State Development Corporation and the New York City Economic Development Corporation. The FY2013 budget allocated an investment of $3 million to support the commercial and cultural expansion of La Marqueta.
Exciting features of this initiative include:
El Barrio Youth Marqueta (more info below), a partnership with GrowNYC/Greenmarket that provides fresh, local food to this underserved neighborhood as well opportunities for youth ages 16-24 who manage the market.
La Placita, the public plaza outside of La Marqueta, has been reopened, furnished with chairs and tables and public wifi.
A full schedule of cultural programming has been developed, including music, dancing, food, movies and more.
Support and opportunities for artists, vendors and small businesses
Cultural programming, food, movies, music and fun for all ages can now be found under the tracks at historic La Marqueta. Check out the program website and read the press release to learn more!
Visit El Barrio Youth Marqueta now through November:
116th street and Park Avenue at the entrance of Urban Garden Center LLC at la Marqueta:
Thursdays 1-7pm
Saturdays 11-5pm
Sunday 11-5pm