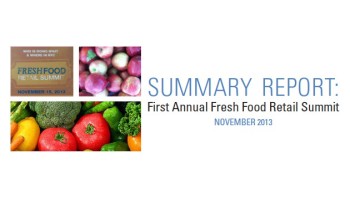 The first annual New York City Fresh Food Retail Summit was hosted by the Food Policy Center at the CUNY School of Public Health, where Center Co-Director Janet Poppendieck gave opening remarks on November 15, 2013. The Summit was a first step in strengthening collaboration and aligning efforts in healthy food retail across NYC. More than 100 individuals from organizations operating citywide attended the full-day event comprised of insightful presentations, a panel discussion, a poster session, and afternoon break-out discussions.
Read the report summarizing the event and next steps.
As a next step, participants are forming a Healthy Food Retail Steering Committee that will quarterly bring together organizations working on the ground with brick and mortar retail operations to increase access to healthy foods. Steering Committee priorities and goals will be set during the first meeting on Friday, April 11th.  Please contact Jessica Goodell at jgoodell@healthsolutions.org for additional information.