Join us Tuesday, April 8th for a conversation on Corporations, Consumption and Protecting Public Health at the Roosevelt House Public Policy Institute at Hunter College.
In addition to Dr. Freudenberg, the program will feature Nancy Romer, Co-Founder and Chair, Governance Board, Brooklyn Food Coalition and moderating the discussion will be Dr. Thomas A. Farley, Former Commissioner of Health, New York City Department of Health and Mental Hygiene and 2014 Joan H. Tisch Distinguished Fellow in Public Health at Hunter College.
This panel discussion uses LEGAL BUT LETHAL: Corporations, Consumption and Protecting Public Health, Nicholas Freudenberg's new book, as a jumping off point to examine the ways in which corporations have affected public health over the last century, and the long-term impact of corporate influence on public health in industrialized countries and now in developing regions. In Lethal But Legal Dr. Freudenberg documents as well the emerging movements that are challenging corporate dominance of the debates around public health, and in conversation with Ms. Romer and Dr. Farley will explore ways to strike a healthier balance between profit and protecting people, in New York and around the globe.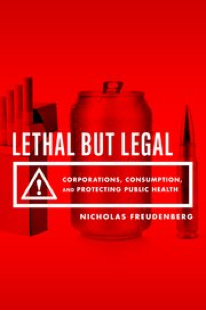 We invite you to Roosevelt House to hear three noted experts offer insight into the practical and effective action government — and individuals — may take to guarantee our right to safe food and good public health.
Reception 5:30 PM, Program 6:00 PM
Roosevelt House at Hunter College
47-49 East 65th Street
(btwn. Park and Madison Avenues)
New York, NY 10065