Below includes more information about the food resources that are available to New Yorkers and a step-by-step guide to using the City's resources and community-based organizations providing food:
For a more comprehensive guide to food resources in your neighborhood, see the Center's Coronavirus NYC Neighborhood Food Resource Guides at nycfoodpolicy.org/food. For any additional questions on accessing community food resources, please email info@nycfoodpolicy.org.

GetFoodNYC
You are eligible for the GetFoodNYC Emergency Home Food Delivery if you:
Are unable to go out and get food for yourself, and

Do not have someone else in your household who can get food for you, and

Do not have a family member, friend, or neighbor who lives nearby who can get food for you, and

Do not receive enough food from Meals on Wheels, God's Love We Deliver, or a similar service to cover your daily food needs, and

Are unable to afford food delivery from a restaurant or grocery store.
Things to know:
Each delivery contains enough food for 3 days (9 meals a person)

NOTE: If you do not want the City to create an account for you, you may request food by calling 311

To recertify, login online or call 311 every 2 weeks
Languages available to sign up online include: Arabic, Bengali, Simplified Chinese, Traditional Chinese, French, Haitian Creole, Korean, Polish, Russian, Spanish, and Urdu
If you need assistance while filling out the website below to sign up, please call 3-1-1
1) Go to this website link (NYC Food Delivery Assistance) to begin the sign up process.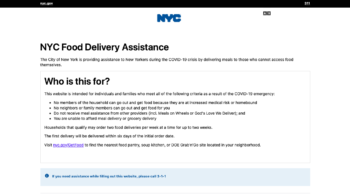 2) Review the Disclaimers and choose the option to request food for yourself or your household. Then click the purple bar that says "Create an Account."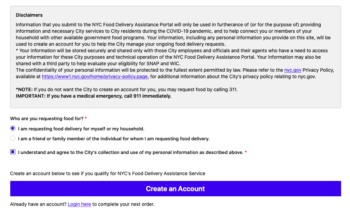 3) Fill in the New Account Registration with your information. If you do not have an email address, call 3-1-1 to complete your registration instead.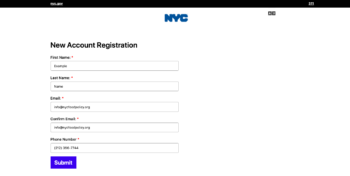 4) Once you press Submit, you will be directed to the below screen. Check the email address that you provided to receive a confirmation and to begin your sign-up for deliveries.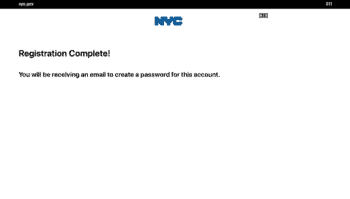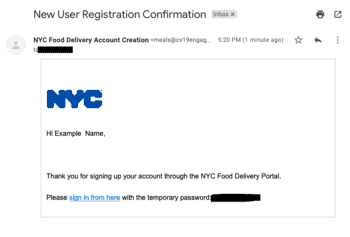 5) Click the link in blue from the email you receive. To sign in, use the email address you used for the previous sign-up and use the temporary password that will be located where the black box is in the above email. Create a new password of your choice and type it in twice.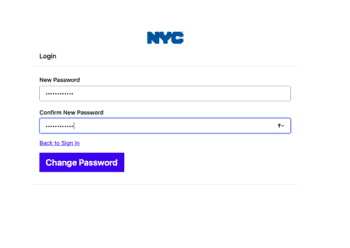 6) Now begin answering the qualifying questions as part of the sign up. Press the blue next button to move on to the next page of questions. There will be a total of 4 pages to complete.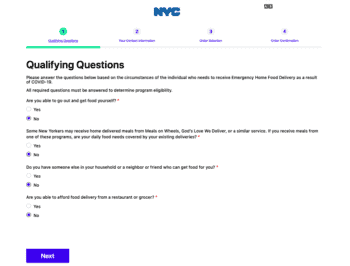 7) On the second page titled "Your contact information" make sure to include your apartment number if applicable and include landline phone numbers as well as cell phone numbers that can receive text messages.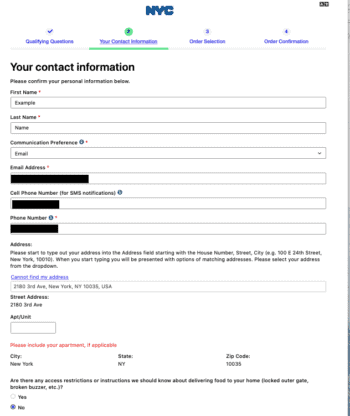 8) On the next page, make sure to answer all questions for the "Order selection" and click on the blue Add Participant box to include all members in your household needing food delivery.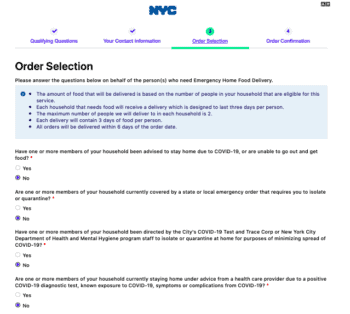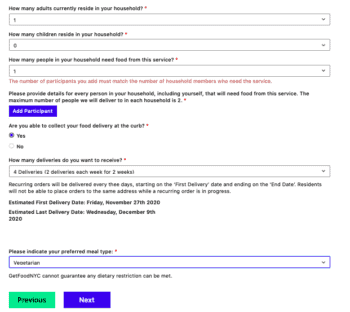 9) When you press Add Participant, a new screen will come up with space to fill in more information about each household member. When all information is listed, click Save. When all household members are listed, press Next.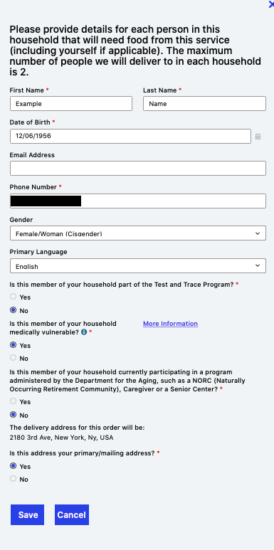 10) On the final page, confirm all information is accurate before clicking Place Order. You will then receive a confirmation email about your delivery.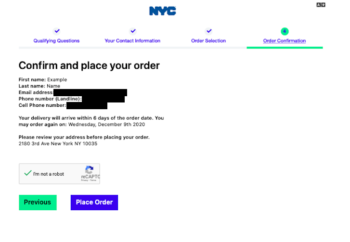 SNAP (Supplemental Nutrition Assistance Program)
You can apply online on

ACCESS HRA

.

How to apply for SNAP:

You can call the Infoline at 718-557-1309 to have an application mailed to you

You can pick up an application at a

SNAP center

SNAP Applicants can fax an application to MARU at 917-639-1111.

You can also print out an application and drop it off at a

SNAP Center

All New Yorkers in need of medical care, food assistance, and other benefits and services should seek the help they need without fear. Many health and social services — including COVID-19 testing and care, food assistance, tenant protections, and free legal help are available regardless of immigration status, ability to pay, or employment status.
The services listed are provided for free to all New Yorkers no matter what your immigration status is. Undocumented immigrants can also receive these services, and doing so will NOT make you a "Public Charge" or hurt your ability to apply for a green card.
Things to know:
Many HRA SNAP sites are closed due to COVID but there is at least one in each borough open at this time

SNAP recipients can use their benefits to purchase groceries online, however SNAP benefits cannot be used to pay delivery fees.

Many non-citizens may be eligible for SNAP benefits if they are one of the following:

Refugees, Cuban/Haitian Entrants, Asylees, Amerasian immigrants, individuals with deportation or removal withheld, Hmong or Highland Laotians, victims of human trafficking, parolees for at least one year, conditional entrants, North American Indians born in Canada and members of federally recognized tribes;
Honorably discharged U.S. veteran, the spouse and unmarried dependent children;
Aliens on active duty in the U.S. military service, the spouse and unmarried dependent children;
Aliens paroled into the U.S. for at least one year;
Certain battered immigrants and their children or parents; and
Legal Permanent Resident (LPR) in the U.S. for 5 years
LPR with certain disability benefits
LPR with 40 qualifying quarters
LPR under age 18
To find out if you are eligible for NYC programs including SNAP benefits, follow this link or type in https://access.nyc.gov to your web browser. Click the yellow "Am I eligible?" button.
*To change the font size or translate page, click the top right corner for the following languages: Español, Русский,한국어, العربية, Kreyol,繁體中文, Français, Polski, اردو , বাংলা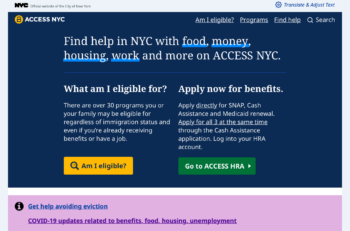 The Department of Education Meal Hubs
The Department of Education (DOE) is providing Grab-and-Go meals for all New Yorkers:
Open to all New Yorkers, Monday-Friday, 3-5pm

Meals are not available to the general public at any other time

No registration or ID required
Multiple meals can be picked up at once

Kosher and Halal meals are offered at select locations
1) To find out where the closest Meal Hub is to where you live, click here or click on the blue box that says "Find Community Meal Locations" at this address: https://www.schools.nyc.gov/school-life/food/community-meals
1) Type your address into the search bar on the top left of the map. Use the + and – buttons to zoom in and out.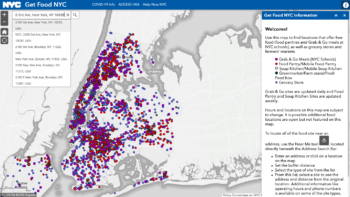 2) All Meal Hubs are listed in purcle. Click on the name of the schools to find out the address and more information.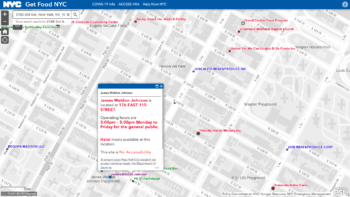 *Food pantries are listed in red, soup kitchens in black, greenmarkets and farmers' markets in green, and grocery stores in blue. Click on any organization name to find out more information.

Plentiful
You can also sign up for Plentiful, a free app available in multiple languages, developed by City Harvest in partnership with the United Way for New York City and the New York City Food Assistance Collaborative.
Through Plentiful, you can find food pantries near you and reserve a time to pick up food without waiting in any lines.
To learn more and sign up for the app, visit:

https://plentifulapp.com/

or text "FOOD" to PANTRY (726-879) from any phone
You can use Plentiful on any computer, tablet, or mobile device that can surf the web. Most of our pantries prefer Google Chrome, Safari, or Firefox browsers on a lightweight laptop, tablet, or cell phone. All you need to do is go to pantry.plentifulapp.com and sign-in.
Plentiful does not require providing sensitive information. The only information needed is name, phone number, zip code, household size, and birthday.