Part of our Fall 2014 Food Policy for Breakfast Seminar Series.
In New York City more than 600,000 young adults attend college. How are universities feeding their students? What are the facilitators and obstacles of healthier campus food and food environments? What promising strategies can be learned from other places? In this session in honor of National Food Day, the following panelists will discuss these questions.

Panelists:
Christina Grace, Principal and Food Systems Consultant for several SUNY campuses, New Territories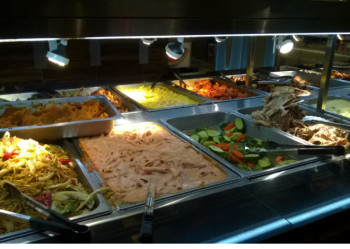 Ollín Rodríguez, Northeast Assistant Regional Coordinator, Real Food Challenge, ,  an organization that leverages the power of youth and universities to create a healthy, fair and green food system.
Nicholas Freudenberg, Distinguished Professor of Public Health, Hunter College and the CUNY School of Public Health, and Faculty Director, Healthy CUNY
Moderated by: Jan Poppendieck, Professor Emerita, Sociology, Hunter College, and Policy Director, NYC Food Policy Center at Hunter College.
Location: CUNY Graduate Center, 365 5th Ave, New York, NY 10016
Date: Tuesday, October 21, 2014
Time: from 9:00 AM to 10:30 AM (EDT)