UPDATED: Post Event Recap!
We're pleased to report that the East Harlem Harvest Festival held on October 27th was a huge success!
The NYC Food Policy Center's contributed an interactive chalkboard activity to the event, where community members contributed their vision for La Marqueta in a fun, collaborative way.
The NYC Food Policy Center also provided support to Hunter's Nutrition Club members, who tabled in the "Children's Zone" and gave out samples of healthy Halloween snacks, recipes and take-away cards. Snacks sampled included "Banana boos" (half of a banana on a stick with chocolate and raisin eyes and mouth), "Monster Mouths" (apples halves held together with peanut butter, decorated with almond "teeth"), "Spooky Eyes" (hard boiled eggs decorated with olives) and autumn trail mix (popcorn, dark chocolate chips, pumpkin seeds and roasted almonds).
Thanks to everyone who worked so hard to make this event an incredible success! We look forward to continuing our work with East Harlem to promote healthier environments and community development.
Event Information
This Sunday, October 27th was the 2nd Annual East Harlem Harvest Festival!
Hunter's Nutrition Club ran a tent serving up healthy Halloween cooking demos, and there were fun activities and shopping for the whole family. Local vendors and artisans, farm-fresh produce, dancing and games for the kids, and grown-up indulgences like a beer garden, pig-roast, and live entertainment!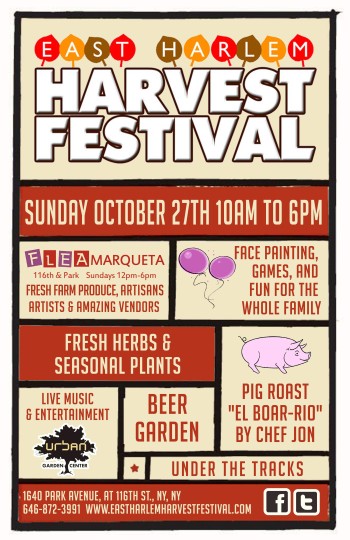 This event was organized by Urban Garden Center and Flea Marqueta.
For more information:
http://eastharlemharvestfestival.com/
Twitter:
@UrbanGardenCenterNYC @FleaMarqueta
Facebook: