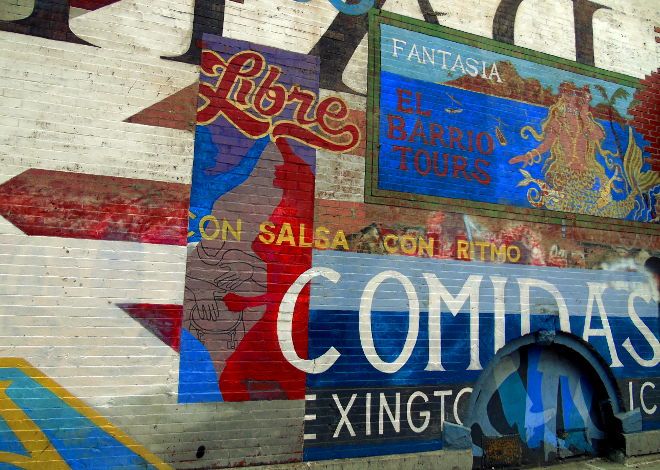 In order to create healthier local food environments, public officials, advocates and community residents need detailed information on current conditions.  To help develop that understanding, we summarize data on food environments in East Harlem (defined here as zip codes 10029 and 10035). Data are the most recent we could find. 
OF THE 41,504 EAST HARLEM HOUSEHOLDS, 28% RECEIVE SNAP BENEFITS
In 2010, 122,920 people lived in East Harlem, of whom 50% are Hispanic, 32% African-American, 11.5% white, and 5.5% Asian.
Just under 30% of the population had incomes below the poverty line, making East Harlem the 13th poorest of New York City's 59 community districts.  In 2012, 44.2% of East Harlem children lived in poverty.
Of the 41,504 households in East Harlem, 69% reported earning some income in 2013 and 28% reported they received SNAP benefits.
66% OF THE RETAIL ESTABLISHMENTS ARE BODEGAS
Each system for counting food establishments yields different numbers, mostly because of different definitions. A Google search for retail food establishment shows 103 in East Harlem, of which 65% are groceries, 12% delis, 11% supermarkets, 6% produce stores and 7% some other kind of outlet.
The New York State Department of Agriculture and Markets lists 204 food retail establishments with active licenses in East Harlem
A 2007 survey of all stores selling food in East Harlem by the New York City Department of Health found 263 establishments, of which 66% were bodegas, 13% specialty stores, 8% supermarkets, 7% convenience stores and 6% drugstores.
27 OF 177 RESTAURANTS ARE FAST FOOD RESTAURANTS
Of the 177 restaurants that the health department located in East Harlem, 27 were fast food stores.
A more recent (2011) study of 2 census tracks (182 and 188) in East Harlem by the Cornell Cooperative Extension Service found 138 sources of food (including soup kitchens and community gardens) of which 39% were take-out or formula fast food, 21% were bodegas, 12% were street vendors, 10% were convenience stores or drug stores that sold food, 8% were specialty markets and 10% were some other category, including 2% supermarkets.
$90 MILLION IS SPENT ON FOOD IN EAST HARLEM 
Community Board 11 estimates that East Harlem residents spent about $340 million on food each year, the largest spending category in the district.  Of this about $90 million is spent in East Harlem.
Based on data provided by USDA, we estimate that 11,629 households in East Harlem spent a total of $38.2 million dollars in SNAP benefits in 2013.
CHILDHOOD OBESITY RATE IS 23.4%
In 2011, the child obesity rate in East Harlem was 23.4%, the 13the highest in the city's 59 districts.
2ND HIGHEST ANNUAL DEATH RATE IN NEW YORK CITY
In 2004, the average annual death rate for people under the age of 75 in East Harlem was the second highest in New York City, higher than in 41 of the 42 health districts. Heart disease, cancer and diabetes, all conditions related in part to diet, accounted for 35% of the years of potential life lost in East Harlem in the years 2002-2004.
According to East Harlem's Community Board 11, heart disease hospitalization rates in East Harlem were 45% higher than the NYC average. About 31% of adults in East Harlem are obese compared to a NYC average of 20%.  This is the highest proportion of obese adults among all NYC neighborhoods. Finally, 13% of adults in East Harlem have diabetes compared to the NYC average of 9%.
For more information on food environments in East Harlem:
Community Board 11 Draft Statement of District Needs Fiscal Year 2014
Community Health Profile, East Harlem. New York City Department of Health and Mental Hygiene, 2006.
Costa P. East Harlem Retail Analysis, Community Board 11.  No date.
Furman Center for Real Estate and Urban Policy. State of New York City's Neighborhoods and Housing. New York University, 2012.
Gordon C, Ghai N, Purciel M, Talwalkar A, Goodman A.  Eating Well in Harlem: How Available Is Healthy Food? NYC, DOHMH,  2007