On September 21 the NYC Food Policy Center at Hunter College and our partners SCAN-NY and Mt. Sinai reconvened the Healthy Food for Upper Manhattan workgroup at the CUNY School of Public Health's new space on 125th Street in Central Harlem. Tapping into the larger citywide conversation around rezoning, the topic of this meeting was rezoning and food, as East Harlem community leaders and residents move forward in developing a shared vision for the future of East Harlem.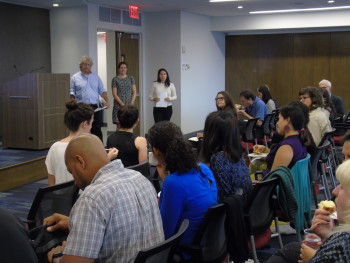 Over the next 3-6 months, we will continue to hold space for Upper Manhattan food groups to develop shared long term goals for local food groups in order to:
1. Find common ground that unites us
2. Maximize our cumulative impact
3. Use limited resources more efficiently
4. Create a culture of sharing and collective action
5. Avoid duplication of effort
We invite Healthy Food for Upper Manhattan attendees interested in shaping the direction of this group to join a visioning subgroup to develop ideas for presentation at our next meeting.
Please contact Diana Johnson, Director of Community Projects: dj@nycfoodpolicy.org
Leading up to food day (October 24th, 2015) we're helping to organize a Big Apple Crunch event with our community partners New Harlem East Merchants Association, Edible Schoolyard, Harlem Children's Zone, Wellness in the Schools, Hunter College Nutrition Club and the East and Central Harlem District Public Health Office. All over the city businesses, schools, community organizations, and individuals will bite into apples simultaneously, taking part in the "crunch heard 'round the world,'" hopefully breaking the record of 1,000,000 crunches in 2013! Join us on 10/21 at the Uptown Grand Central plaza at 125th Street and Park Avenue under the Metro-North Station, host your own Big Apple Crunch or find a location near you!