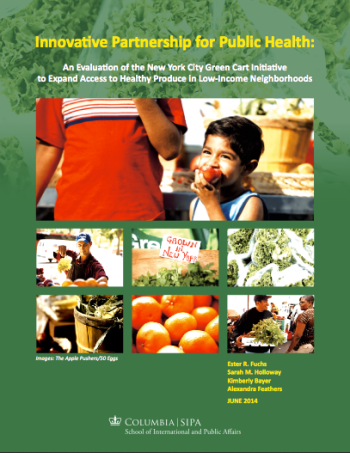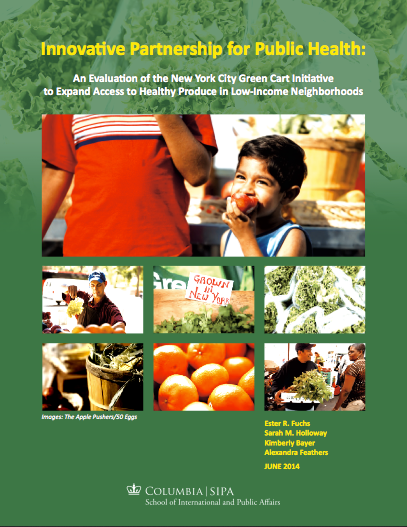 Last week, Columbia University's School of International and Public Affairs (SIPA) released a report on its study analyzing the NYC Green Cart Initiative, its effects on fresh fruit and vegetable access for low-income New Yorkers, the sustainability of Green Carts as independent businesses and as a case study for how philanthropy can play a role in the support and promotion of innovative public policy.  We highlight below some key findings, by the numbers. Researchers recommend this program be replicated in municipalities nationwide, though they also made recommendations for improving Green Carts.
System Overview:
The largest number of Green Carts were located in the Bronx (58), followed by Manhattan (44), Queens (22) and Brooklyn (19). There were no Green Carts in Staten Island.
There were reported 166 Green Carts operating across four boroughs during peak vending season (July-October 2013). Given that over 1,000 were issued and 507  are currently active, this finding suggests room for improvement to ensure full utilization.
Customer Perspectives
71% of customers surveyed reported increased consumption of fresh fruits and vegetables since shopping at a Green Cart.
63% of customers are "regulars" (at least once a week).
68% of customers earn less than approximately 200 percent of the federal poverty level.

However, only 18% of customers report receiving public assistance.

50% of customers are "always" or "sometimes" worried about having enough money to buy fresh fruits and vegetables.
92% said that location and prices are two main reasons for shopping at a Green Cart.
Vendor Perspectives:
80% of vendors consider themselves "very profitable" or "somewhat profitable."
50% of vendors have been vending more than two years.
75% of vendors believe their experience running a Green Cart will help them open a larger business.
At least 88% of the vendors are foreign-born, with Bangladesh, the Dominican Republic and Mexico being the most frequent countries of origin.
Source: