Some numbers illustrate the breadth and magnitude of our complex food system here in New York City and beyond.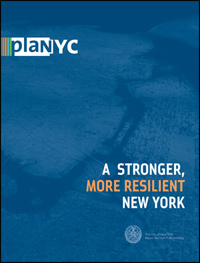 Thanks to Nevin Cohen for sharing these numbers, from PlaNYC: A Stronger, More Resilient New York
Each year, more than 5.7 million tons of domestic and international food shipments flow into New York City
95% of the city's food travels to New York City by truck
Nearly 30% of the truck traffic over the George Washington Bridge on any given day is believed to be carrying food.
About 60% of the city's produce and about half of the city's meat and fish passes through Hunts Point for sale and distribution to retailers and consumers.
Every day, almost 13,000 trucks travel into and out of the Hunts Point Food Distribution Center.
While most of New York's retail square footage will not be at risk of surge, the buildings that are at risk are concentrated in low-income communities. The top four at-risk community districts- which are projected to have more than 75% of their food retail floor area in a floodplain by the 2050s– are all areas with high levels of low-income populations. This includes Coney Island, the Rockaways, Throgs Neck/Co-Op City and East Harlem.
There are almost 700 food retail markets in FEMA's PWM (Preliminary Work Map)-defined 100-year floodplain, representing more then 10% of the city's food retail space. By the 2050s, almost 355 additional existing stores will be found in the projected 100-year floodplain- bringing the total of at-risk retail floor area to over 15% of the city's total food retail space (close to 1030 stores)