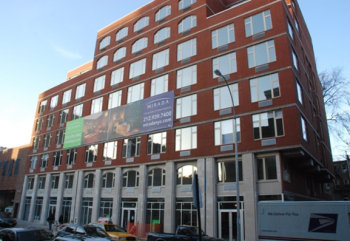 The NYC Department of Health and Mental Hygiene's Center for Health Equity District Public Health Offices (DPHOs) work to promote health equity and reduce health disparities across New York City by targeting resources, programs, and attention to high-need neighborhoods in the South Bronx, East and Central Harlem, and North and Central Brooklyn. The Center for Health Equity's DPHOs inform, develop, and advocate for public health policies; conduct local research, share findings, and take action based on findings; and develop and implement community-based programs and initiatives, often with local partners. The East and Central Harlem DPHO works on an array of health issues, with a primary focus on asthma and chronic disease prevention through healthy eating and active living.
Tell us specifically about the food-related work you do or services you provide.
We aim to reduce health inequities by taking a multi-pronged, multi-level approach. At the individual level, we coordinate Health Bucks and conduct healthy eating and nutrition workshops to promote fruit and vegetable consumption. At the organizational level, we assist schools in creating healthier food and beverage environments for students and staff. We also work to change institutional and organizational practices and policies via campaigns, such as the Sugary Drinks and We All Want Healthy Children campaigns. At the neighborhood level, we engage bodega owners through Shop Healthy to carry and promote healthier options and facilitate neighborhood planning and community visioning around food via the New York State Health Foundation Healthy Neighborhoods Initiative.
Tell us about a recent success you've had with your food-related work.
On June 3, the East and Central Harlem DPHO , along with the other two District Public Health Offices, hosted the sixth annual NYC Excellence in School Wellness Award ceremony, which celebrated and awarded 89 elementary schools from across all five boroughs for their achievements in creating a healthier school environment. The NYC Excellence in School Wellness Award was created to recognize elementary schools for their efforts in creating a healthy school environment, such as salad bars and healthy fundraisers, as a means to prevent childhood obesity and improve academic achievement. Additionally, through workshops, technical assistance, and the Excellence in School Wellness Award, 17 elementary schools in East and Central Harlem no longer serve chocolate milk.
Tell us about a recent challenge you have encountered in your food-related work.
Many organizations are doing great work to increase the access to and affordability of healthy food, so it can be a challenge to coordinate our work to ensure that our efforts are impactful and truly making a difference. A long-standing challenge of ours is the oversaturation of inexpensive, unhealthy food in the neighborhood.
Any exciting new events or projects?
EHACE Chefs, a weekly nutrition workshop where participants receive Health Bucks, will kick off in July. We are also exploring a community cooking class pilot that we hope to launch in the fall. We also just received a New York State Department of Health Creating Healthy Schools and Communities grant that will allow us to increase our food and nutrition work with schools and expand Shop Healthy. Other exciting new projects include the promotion of water, NYC Food Standards, food boxes in schools, and our participation in Healthy Food for Upper Manhattan, a new alliance of Northern Manhattan organizations that work on food issues.
Fact Sheet:
Core programs: East Harlem Asthma Center of Excellence (EHACE), EHACE Chefs, Harlem Health Advocacy Partners, Smoke-free Housing, Citywide Asthma Initiative, Health Bucks, Shop Healthy, We All Want Healthy Children, schools work.
Main Office Address: 161-169 E. 110th Street, New York, NY 10029
Website: NYC.gov/health or NYC.gov/health/dpho
How Many Full-Time Staff: 30
How Many Volunteers: 6 right now, although it varies throughout the year.
Areas you serve: East and Central Harlem
Founding Date: Spring 2003
Founded by: NYC Department of Health and Mental Hygiene