A recap of the workshop held on October 10, 2014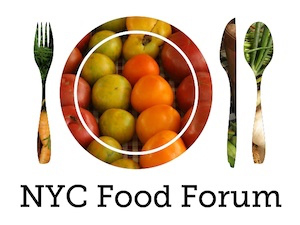 On October 10, 2014, 150 individuals from 100+ organizations came together to create a shared understanding of equity and explore ways to advance equity that will provide opportunity and benefits to all New York City residents. This workshop explored how we can collectively be more intentional in:
1.    advancing food policies and practices that are meaningful and target benefits to communities most impacted by inequities; and,
2.    placing at the center the voices and wisdom of those who have historically been excluded in order to generate solutions and fully contribute as workers, innovators, leaders and entrepreneurs of the food system.
Why Equity Now?
Recent years have seen the rapid emergence and growth of activity within and across New York City's food system. While these efforts cross multiple sectors and issues, they have tended to be disparate and have not created the comprehensive, systemic change needed to dismantle the deepening racial and economic inequities experienced in many communities across New York City. Further, mounting evidence shows that our food system continues to exacerbate existing gaps in access, health, income, wealth, employment, and opportunity, and alienates and exploits historically marginalized communities.
It is clear we need a new and more effective food system in New York City. It must be driven by equity–just and fair inclusion where all can participate and prosper. Achieving equity requires erasing inequities in both opportunities and outcomes. Equity is about asking ourselves and each other three fundamental questions: Who benefits? Who pays? Who decides?
The Workshop
Maya Wiley, Counsel to the Mayor, Office of the Mayor of New York City gave opening remarks.  Ms. Wiley underscored the importance of equity for all of New York City, and emphasized the value the Mayor and his entire administration place on equity, urging workshop attendees and the broader food movement to push forward through this challenging yet critically important work.
"When we think about food insecurity, we have to think about why people can't afford to live."
Maya Wiley, Counsel to the Mayor

"Equity means there's a floor beneath which nobody falls."
Maya Wiley, Counsel to the Mayor

"Speak your truth. Lean into discomfort and lean into each other. Expect and accept non-closure."
Maya Wiley, Counsel to the Mayor
Amanda Navarro, deputy director, PolicyLink set the stage for the day in her talk on why equity matters to New York City and our Food System, and how to re-frame some of our most common questions and strategies to reflect our more equitable and inclusive intentions.
"Race is a central consideration in creating an equitable NYC and a just and sustainable food system."
Amanda Navarro, PolicyLink

"Meaningful community engagement is essential in creating revitalized communities of opportunity. Community outreach is not community engagement."
Amanda Navarro, PolicyLink
Beatriz Beckford of Why Hunger moderated a panel, "Food & Equity Leaders Salon: Equity in Action." This panel was designed to extract the ways in which these individuals and the organizations they represent have taken on equity in a meaningful way, and what that process has looked like.
Panelists included:
•    Liz Accles, Community Food Advocates
•    Daisy Chung, Restaurant Opportunities Center – New York
•    Anthony Giancatarino, Center for Social Inclusion
•    Javier Lopez, Center for Health Equity, NYC Department of Health & Mental Hygiene
•    Makani Themba, Praxis Project
•    Mark Winston Griffith, Brooklyn Movement Center
"Why equity now? The movement on food change is happening now and we need our communities to lead that change. A racial equity lens is pulling back the picture in front of us to see the whole picture."
Anthony Giancatarino, Center for Social Inclusion

"What does it look like to have a movement that reflects the people most affected?"
Makani Themba, Praxis Project

"We view food production as a faceless, abstract construction, that is rarely spoken about."
Daisy Chung, Restaurant Opportunities Center of New York

"As an organizer, sometimes I feel like I'm trying to give ice to people in a burning house.  How do you make food policy urgent for people who are facing critical issues such as police brutality, violence, poor schools, housing, etc.?"
Workshop Attendee Monifa Bandele, Mom's Rising
A key theme that emerged from the panel discussion is that people who have been at the margins of conversations about food and food policy need to be at the forefront of food equity.
After a lunch of tamales prepared by Heleadora Vivar, a local East Harlem street vendor and facilitated through the Street Vendor Project, and salad courtesy of Fairway, participants gathered for World Café discussions and visioning of equity in their own organizations and through the NYC Food Forum.
Barbara Turk, Director of Food Policy, Office the of Deputy Mayor for Health and Human Services of New York City, gave closing remarks encouraging the NYCFF to continue in its efforts to pursue a more equitable food system and movement. She reinforced the de Blasio Administration's commitment to equity and support of efforts like this.
In workshop evaluations, attendees indicated that the sessions helped them better understand how racial and economic inequities are experienced in the food system. And attendees indicated that they are better able to articulate how racial and economic equity fit into policy and organizational practice. Many attendees stated that they would be bringing this new knowledge back to their own organizations and continuing the conversation as it relates to their institution and their work.
What's Next?
The workshop provided a foundation for moving forward with a new vision, mission and future direction of the NYC Food Forum in creating an equitable food system for New York City.
Workshop organizers pulled together a document of Shared Learning: a selection of resources to understand and advance equity in food systems work, and are currently developing next steps. Sign-up to receive updates about next steps and upcoming events.
We look forward to continuing to hold space for conversations on the principles, policy and practice needed to advance food equity.
Congratulations and thanks to the many people and organizations that came together to make this workshop possible, in addition to the passionate and committed individuals that attended. We are excited to see this work continue to evolve.
This workshop, Why Equity Matters to NYC and our Food System, was organized and facilitated by the NYCFF Interim Coordinating Committee: Liz Accles, Community Food Advocates; Beatriz Beckford, WhyHunger; Dara Cooper, NYC Food & Fitness Partnership; David DeVaughn, City Harvest; Kady Ferguson Brooklyn Food Coalition; Simone Herbin, Consultant; Nadia Johnson, Just Food; Socheatta Meng, Community Food Advocates; Qiana Mickie, Just Food; Amanda Navarro, PolicyLink; Ashley Rafalow,  NYC Food Policy Center at Hunter College; Diana Robinson, Food Chain Workers Alliance; Caitlin Salemi, NYCFF Coordinator; Michele Silver, NYC Food Policy Center at Hunter College; Carolyn Zezima, NYC Foodscape.
 What is the New York City Food Forum?

The NYC Food Forum was born out of the collective efforts of many food active organizations that came together to sponsor a mayoral candidate forum in July 2013. In the fall of 2013, the NYCFF developed A Food Primer for Our New Mayor that highlighted shared priorities over five issue areas; more than 90 organizations signed on.  After the election and the first 100 days of the new administration, the group has shifted to focus on a longer-term vision and strategy. Looking forward, the NYCFF seeks to ground itself and its members in principles, analysis, and practice around equity.