Natural bacteria to fight world hunger: Three 16-year-old high school students won Google's Science Fair
Since Ciara Judge, Emer Hickey and Sophie Healy-Thow knew about the increasing world hunger and famine by passing the Horn of Africa, they have been looking to find a solution or a suitable response to the increasing food demand.  In this effort, they presented their project at the Google Science Fair, where they won the competition in 15 -16 age group.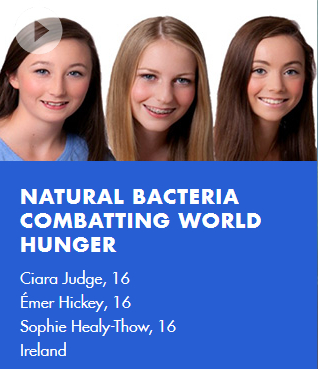 The project begun when in a previous gardening project – that did not go as expected – the girls discovered a bacteria that grow naturally in soil, called Diazotroph. The girls found that Diazotroph bacteria presence could accelerate the growth of certain crops, so they decided to create another experiment.
"We investigated the use of diazotroph bacteria as a cereal crop germination and growth aid. Using naturally occurring Rhizobium strains of the Diazotroph bacteria family, we carried out an extensive study of their impact on the germination rate and subsequent growth of the cereal crops wheat, oats and barley. Detailed statistical analysis of our results indicated that these bacterial strains accelerated crop germination by up to 50%, and increased barley yields by 74%."
The project won the Grand Prize that included $50.000 in scholarship funding.
Like Ciara, Emar and Sophie thousands of students across the globe are developing projects and ideas to fight world hunger.  These initiatives are optimistic and could be part of the answer we need to address the growing demand for food.
Source: googlesciencefair.com