by Ashley Rafalow, Director of Operations and Communications, NYC Food Policy Center at Hunter College

The average New Yorker is busier than ever- juggling the demands of work, family, long commutes, self-care and fitness and overall daily grind of the city. This has led to a boom in what some have dubbed the "on-demand economy." You can get anything delivered, any chore or task accomplished with the click of a button on your phone or mouse. This has also come at a time of increasing awareness and interest in good, healthy, local, organic, sustainable, fresh, minimally processed food. Several food tech start-ups have identified opportunities to help us eat better and more easily, with the promise of health, adventure and maybe even skill-building to boot- but there is a premium to enter into this new convenience market? As innovators respond to perceived market needs and carve out new markets for these grocery store alternatives, the public health and good food communities are all too aware of the needs of the hungry, food insecure, and those suffering from diet-related disease. Are there lessons we can learn from the private sector, or opportunities for collaboration and mutual learning?
Let's take a look at the current boom in food start-ups providing grocery delivery and convenience meals.
Want your groceries delivered? There's Fresh Direct, Peapod, Amazon Fresh, and Instacart, to name a few. Though these larger operations offer organic and local foods, there are now start-ups specializing in just that: Good Eggs (locally produced and grown- think online farmers' market), Farmigo (think online choose-your-own CSA), and Thrive Market (online big box buying club with values). These cater to shoppers willing to pay a premium for food that is local, seasonal, organic, minimally processed, reflective of their values – and delivered to their door or a convenient drop-off site.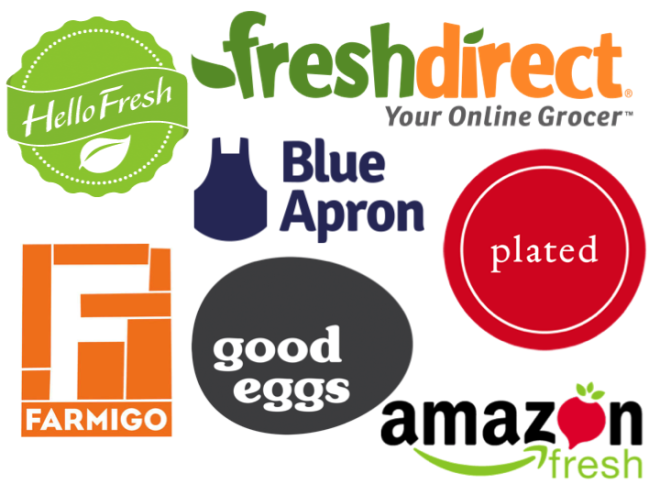 Don't have time to shop or plan a menu, but want to prepare a meal at home? Home delivery of pre-packaged, measured and planned meals to prepare at home has exploded in recent years: Blue Apron, Plated, Hello Fresh are leading the market. One critique of these services is waste: some deem the packaging to be wasteful, while others find that they waste less food compared to when shopping and menu-planning on their own. At about $8-$15 per serving per person, these pre-portioned meal subscription services are priced to compete with ordering in and dining out, not a typical meal planned and prepared by someone who grocery shops regularly. Marketed for busy, sometimes health conscious, curious but perhaps inexperienced foodies, these subscription services are tapping into a market that, while not necessarily profitable yet, is valued to grow into a billion-dollar industry.
Compare this average price tag of $8-15 per meal, per person, to the $4 per day that SNAP users have to spend. These shoppers, many of whom live in neighborhoods lacking in healthy, fresh and affordable food, also need convenient, healthy food as much as consumers who can afford to spend more. Some critics worry that as presently organized, these on-demand food suppliers may exacerbate rather than reduce inequitable access to healthy food.
Barriers to Consumer Participation
What are the barriers that prevent SNAP recipients and low-income New Yorkers from participating in this new convenience market?
The often-prohibitive cost of pre-packaged meals is the first and foremost barrier –we cannot discuss food insecurity, hunger and health without poverty and income inequality. Though not always the case, locally produced food can often cost more than conventional, as does organic. Depending on where you live, Fresh Direct is likely going to cost more than a trip to the local grocery store.
SNAP cannot be used for online purchases, but that could be changing. In partnership with USDA, Fresh Direct launched a SNAP pilot program in two zip codes in the South Bronx. There are limitations (for example the amount remaining on your SNAP card must fully cover the total cost of the items in your shopping cart), and why is it so hard to sign up to accept SNAP anyway?
Online shopping and registration with many of these services requires a credit or debit card- something that not all shoppers may have.
Strict pickup/delivery windows and the nature of perishable food can be challenging for those with multiple jobs, childcare needs, or other unforeseen obstacles New Yorkers encounter every day.
CSA and food box models, even ones in which the shopper can select items (rather than a pre-selected assortment of whatever is available that week), can present a challenge both in terms of scheduling (same pick up time each week) and having the time, energy and knowledge to prepare these meals.
Emerging Solutions
While not widespread or by any means comprehensive, there are solutions emerging that are inclusive of those who can't afford $8-15 per meal.
Tweaking the Blue Apron/Plated model, two Parsons School of Design students developed a thesis pilot project called Prodega, bringing pre-portioned and planned meal boxes to bodegas, important sources of food in communities across New York City, particularly those lacking in full-service grocers. Using only food that could be purchased at a bodega, these boxes cost about $8 each and contained ingredients for dinner for two.
GrowNYC's Fresh Food Box Program operates in select high-need communities, providing shoppers with a CSA style assortment of regionally-grown produce, at a discounted rate that can be purchased with SNAP and without commitment.
Questions and Conclusions
These examples of emerging solutions are small-scale projects or pilot programs, and they are for the most part not technology-based. It's time for us to think creatively and more inclusively about who gets the opportunity to participate in the new convenience economy and to collaborate on solutions to ensure that everyone- regardless of income or any other factor- has the opportunity to nourish themselves and lead healthy, productive lives.
Some food tech start-ups are Certified B Corporations, making the case for mission driven for-profit business in this sector. But are there greater investments, policy solutions, or tech innovations in public health and food value chains that the City, State and Federal government can make to improve the way we all- including low-income shoppers- buy and prepare affordable, convenient, high quality food? Might a publicly owned on-demand food service ultimately return value by creating jobs and reducing diet-related disease? Could the model used in affordable housing- where for-profit developers need to dedicate a proportion of new housing units to lower income residents also apply to companies like Fresh Direct and Peapod, requiring them to offer subsidized delivery to low-income households?
Write to us with your ideas and we'll share them in a follow-up piece: info@nycfoodpolicy.org