Earth Day is observed each year on April 22 to promote environmental awareness and the protection of our planet. The first Earth Day was proclaimed in 1970 in response to 20 million Americans having taken to the streets to voice raising concerns over environmental issues. For the Hunter College NYC Food Policy Center, April 22nd is a day to recognize the strong link between food and a more sustainable environment, and today we will highlight composting in NYC. 
Food scraps comprises about 21 percent of New York City's waste. When this material is sent to a landfill it contributes to NYCs disposal costs and creates greenhouse gas emissions. When composted, however, food scraps and other organic waste become a useful product that adds nutrients to the soil for street trees, gardens, and more.
This year we put together 10 facts every New Yorker should know about the NYC composting program.
Organic waste—food scraps, food-soiled paper, and yard waste—accounts for a third (34 percent) of New York City's residential waste stream.
While New Yorkers may be producing less waste at home than ever before (i.e. in 2005 residential curbside collections totaled nearly 3.5 million tons per year, compared to 3.1 million in 2017 despite a population growth of about 300,000) organic waste is the largest– and still growing–category of waste, representing the biggest opportunity for New Yorkers to divert waste from landfills.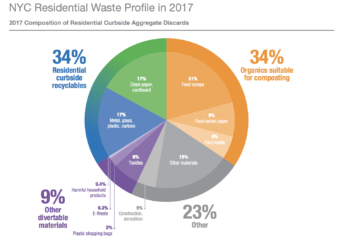 Source: NYC Residential Waste Profile in 2017, 2017 NYC Waste Characterization Study, DSNY
Organic waste as a percentage of NYC's total waste production is on the rise.
In 2005, organic waste made up 28 percent of the total. In 2013 it was 31.5 percent and in 2017 that number grew to 34.4 percent. Diverting these materials away from landfills and towards beneficial use is a core focus for shaping a cleaner New York City. If every New Yorker recycled food scraps, yard waste and compostable paper, landfills would see a drastic decrease.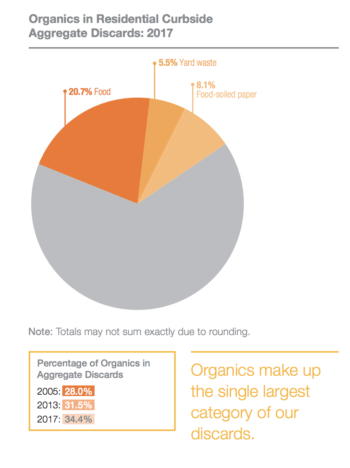 Source: NYC Residential Waste Profile in 2017, 2017 NYC Waste Characterization Study, DSNY
In 2013, under former Mayor Michael Bloomberg, the DSNY introduced the first pilot program to collect organic waste from households and schools in northern Staten Island.
Local Law 77, passed by the NYC Council in October 2013, required the DSNY to establish a voluntary residential organic waste curbside pilot program (in no fewer than 100,000 households) and a school organic waste collection pilot program (in no fewer than 400 public schools). The law also required a study monitoring the program and offering ways to improve community composting. Under the program, residents collect food waste in picnic-basket size-containers in their homes, and those containers are then put in larger brown bins on the curb for pickup by the sanitation trucks. DSNY provides 32 or 35-gallon brown organics bins, posters, and decals to each school based on their student population. Each school is instructed to set up waste sorting stations in the cafeteria where students are instructed to separate their recyclables from the refuse. DSNY then collects organic material from all participating schools Monday through Friday.
In 2015 Mayor Bill de Blasio expanded the NYC program, making it the largest composting program in the country.
Since the pilot program established in 2013 in Staten Island, the NYC Organics Curbside Collection program has expanded to all five boroughs serving more than 3.5 million residents. However, participation in this NYC composting program is entirely voluntary. Unlike other cities, such as San Francisco, Seattle and Portland where composting is mandated by law, New Yorkers are not fined for refusing to participate.
Efforts to tackle organic waste in New York City date back to 1993 when the NYC Compost Project was created by the DSNY.
Efforts to reduce organic waste began long before the expansion of NYC's composting program in 2015. The NYC Compost Project, initiated in 1993, works to rebuild NYC's soil by providing residents with the knowledge, skills, and opportunities they need to make and use compost locally, and supports a growing network of community compost sites including the . Brooklyn Botanic Garden, Big Reuse, Earth Matter NY, the Lower East Side Ecology Center, Queens Botanical Garden, the Snug Harbor Cultural Center & Botanical Garden, and the New York Botanical Garden.
The goal of New York City is to reduce landfill use by 90 percent by 2030. NYC Composting is integral to achieving that success.
New York City's composting program is part of the Zero Waste initiative, which aims to achieve a 90 percent reduction in landfill use by 2030. At the heart of this plan is the composting program established by Mayor de Blasio in 2015. A press release outlines the plan, and the full list of initiatives outlines the Zero Waste goals, including expansion of the Organics Collection Program to serve all New Yorkers by 2018.
Restaurants and commercial operations are also part of the solutions.
In 2016 the DSNYC released an official notice outlining new recycling requirements for businesses that were made enforceable starting in August 2017. Prior to that, as of July 19, 2016, certain large food-waste generators in NYC (e.g. hotels with 150 or more rooms; food service venues in arenas or stadiums seating more than 15,000; food manufacturers with a floor area of at least 225,000 square feet; and food wholesalers with a floor area of at least 20,000 square feet)  had been required to separate their organics.
Composting is available even if the city has not yet rolled out curbside pick-up to your residence or neighborhood.
While New York City may have the largest composting program in the country, it still does not reach every New Yorker. Those who do not have organic waste curbside pickup can visit any of the GrowNYC GreenMarkets where composting sites are available. The GrowNYC & DSNY Food Scrap Compost Program is a partnership between the City of New York, the NYC Department of Sanitation, GrowNYC, and community partners. Additional drop-off locations can also be found using DSNY's list here.
The DSNY is led by Commissioner of Sanitation Kathryn Garcia, a long-term devotee of sustainability.
Garcia began her career at the DSNY as an intern. She has led key initiatives at the Department, including the key environmental goal to send zero waste to landfills by 2030, and is a strong and vocal supporter of the city's composting initiatives. In a press release detailing the expansion of the organic collection pilot program, Garcia said, "Organic materials make up about a third of our trash, and we spend millions of dollars every year to send it to out-of-state landfills….We hope our Organic Collection Program will not only reduce the amount of waste sent to landfill, but also create renewable energy or compost, a natural fertilizer."
Despite benefits, the city is pausing the expansion of the Organics Curbside Collection program.
In May, Sanitation Commissioner Kathryn Garcia said the city was going to take a pause to revamp the program before it expands any further. "We believe that for the program to be successful over the long term, we must ensure New Yorkers are getting the very best service when curbside organics collection reaches their neighborhoods," she said in testimony before the City Council. "To achieve this, the city is evaluating its current service with the goal of increasing efficiencies and streamlining the program."