Food and Tech: Solutions to Recover and Redistribute Food Waste
By Alissa Link
The goal of this article is to inspire readers – including academics, researchers, community-based organizations, funders, social entrepreneurs, policymakers, government agencies and others involved in the food movement – to think about innovative, technological ways to overcome the challenges facing the food system, including food insecurity (i.e., hunger), access to healthy food, food waste, food safety and food-related chronic diseases.
By describing the ways that technology has been used to find new solutions to long-standing food system problems and by identifying areas where technological development is lagging, the Hunter College New York City Food Policy Center hopes to also encourage those in the tech industry to partner with food system influencers to drive increased innovation in this
important sector.
This article focuses on food waste and is the first in a series of five articles covering food waste and technology that the Center will release over the next two months.
What is the scope of the problem?
In the United States, an estimated 52.4 million tons of food end up in landfills, and an additional 10.1 million tons are left unused on farms and in packing facilities each year. About 30-40 percent of all food produced in the United States, worth an estimated $218 billion (1.3% of GDP), is wasted.
When the food that goes uneaten but is otherwise "recycled'"(e.g., for animal feed or as compost) is included, 40 percent of all food grown nationwide is lost. Globally, 30 percent of the total food supply is lost or wasted. 
In the United States, a family of four throws out on average $1,500 worth of food annually, about 9.2 percent of the average amount spent on food in a year. 
While these statistics are staggering, it is important to note that there is considerable variability in how these data are defined, collected and analyzed, making it challenging to compare figures across various studies, many of which overestimate the problem. Nevertheless, these levels of waste are astonishing when considered in conjunction with the rates of food insecurity in the United States – according to the USDA, nearly 12 percent of households are food insecure in the U.S. – and globally (see Part 1, Health Tech & Food Insecurity). There is a great public health opportunity to be found in recovering and redistributing food before it is wasted.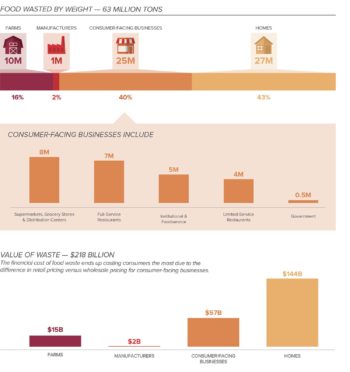 Photo credit: ReFED
Where are the gaps in the current system?
Food waste occurs at many points throughout the food system, including overproduction on farms, spoilage during storage and transport, mismatches between supply and demand at retail outlets, and mismanagement of the household food supply. Waste from consumer-facing businesses (such as grocery stores and restaurants) and homes accounts for more than 80 percent of total food waste. Given the significant contribution to food loss and waste at each of these steps in the food chain, the problem is ripe for innovation.
Digital technologies have made connecting the dots between wasted food and food insecurity much easier. This article describes innovative ways to recover surplus food for consumption or alternate uses before it is discarded, including secondary-reseller and food-waste-recovery solutions that match donors (such as restaurants) with recipients (such as food banks); improved storage, handling and transport of donations; and making it easier for donors to claim tax deductions.
Food Recovery
Background
Food recovery is also called "gleaning" and can include collecting unharvested food from farmers, perishable produce from wholesalers and retailers, prepared foods from the food service industry and nonperishable foods from manufacturers, distributors and supermarkets. While it might seem obvious that unused, edible food that would otherwise be discarded by food retailers could be "recovered" for donations to food pantries and other safety-net food assistance programs, the logistics of these transactions have historically been complicated.
Perceived Barriers to Donating Food
One of the most pervasive perceived barriers preventing restaurants and food corporations from donating their unsold goods relates to the fear of liability and bad publicity should someone fall ill after consuming these goods. Foodborne illnesses are prevalent in the United States, with more than 48 million cases per year, and food businesses held liable for these illness outbreaks may face considerable costs. Taco Bell, for example, paid more than $98 million in settlements after a 1992 E. coli outbreak was traced to that chain.
The Bill Emerson Good Samaritan Food Donation Act (1996) protects donors to nonprofit organizations from liability should any "wholesome food or an apparently fit grocery product…[donated] in good faith…be harmful to the health or well-being of another person." However, the Emerson Act is not well publicized, and there are common misunderstandings about what sorts of food products can be legally donated.
While some may believe that finding a recipient for unused food is not worth the effort, given the relative ease of simply throwing it away, it's important to remember that there are also costs associated with waste removal (e.g., commercial dumpster rental contracts).
"The food industry spends $1.3 billion a year to dispose of [unsold] food, even while food banks pay millions of dollars to purchase food for their clients."
New Tax Deductions Provide Financial Incentives To Donors
As of 2015 the United States tax code (H.R. 2029) permits companies that donate surplus food to deduct half the profit they would have made by selling that food plus any costs associated with making the donation. These financial incentives, coupled with the success of the sharing economy in other industries (such as Uber and AirBnB), have created an opportunity for innovation in the realm of food donations.
Donation Matching Software and Apps
A number of social entrepreneurs are using technology to address both food waste and food insecurity by facilitating the recovery of foods that would otherwise be discarded and connecting those resources either with food banks or directly with people in need. By providing real-time information about available food, donation-matching software enables local organizations to arrange efficient routes and pick up smaller amounts of food that would otherwise have been too expensive to recover. 
The nationwide MEANS database's website provides donors with an easy way to post information about food they want to donate, thus eliminating much of the time and effort they would otherwise have spent looking for recipients. MEANS's findings show that more than one-third of the phone numbers listed for food banks and food pantries online are incorrect. MEANS also provides donors with the information required for claiming federal tax deductions in an easy-to-use format (for IRS Form 1120, U.S. Corporation Income Tax Return).
Food banks and food pantries can use the MEANS website to post the food items they need and specify how far they are willing to travel. They then receive real-time email notifications of available donations and their locations. The nonprofits claim the items they want by clicking a button, which then removes the food from the public listing. MEANS's algorithm determines which nonprofits are most likely to pick up the donation fastest first.
Feeding America's Meal Connect is another free technology platform that matches food donations with local nonprofits. As of mid-2019, they've recovered more than 820 million pounds of food and made over 2 million pickups for more than 5100 nonprofits. The platform was designed in partnership with Google.org, and in addition to making matches and identifying new opportunities for food banks, it monitors pickup activity and generates donation receipts.
A number of start-ups perform similar services through apps and websites. Waste No Food (California), Copia (San Francisco Bay area), Chow Match, Food Cowboy and Mezzo all facilitate pickups of surplus food from commercial kitchens by soup kitchens and food pantries. By 2015, Waste No Food (founded in 2011) had delivered close to 1 million meals through its platform.
Copia App: Facilitating Donations and Tax Write-Offs
What it does: Copia enables businesses and event sponsors in the San Francisco Bay Area to donate excess food to those in need and, in turn, receive a tax write-off and a reduction in disposal costs.

How it works: Businesses can request a pickup of their surplus food through Copia's platform, and a Copia driver will pick up the food and deliver it to people in need. Additionally, nonprofit organizations can sign up to request food donations. When the organization is notified of an available donation, it can either accept or reject it. If the organization accepts, the food is delivered. Copia also provides data concerning trends and real-time alerts to its food business customers that help those businesses order, buy and plan more efficiently.

Why it's interesting: Copia is a for-profit company that has found a way to reduce food waste and disposal costs for food businesses as well as to help those businesses receive a tax deduction (along with the necessary reporting tools) while also feeding the hungry. Food businesses pay a volume-based fee to Copia, as they would to a waste disposal or composting company, but can still have a positive return on investment because of the savings earned and tax deductions.  The company's for-profit status also lets Copia pay its drivers instead of depending on volunteers. It's a win-win situation.
What can be learned from the app: For-profit models can sometimes have a greater impact and be more effective than nonprofits, because the former do not rely on volunteers and financial donations.
Created by: Komal Ahmad
Website: https://www.gocopia.com/
Cost: Free app; volume-based fees apply for pickups from businesses (with discounted pricing for regular pickups).
Future of the app: This service model could be expanded across the world; the for-profit model may support scalability.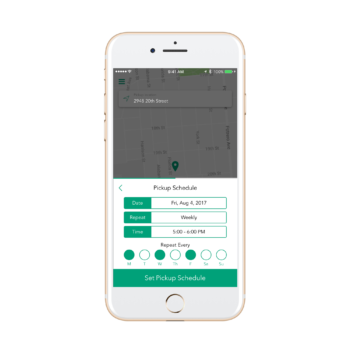 Food Cowboy's app is one of the more comprehensive models, and it gives companies several ways to donate, whether the food is in a warehouse or in transport. Using the app, a food company's truck driver can report a rejected food delivery and subsequently find donation recipients who are conveniently located along the truck route. If no one is available to receive the food, the app points drivers to compost sites or nearby farms, all to avoid the food's ending up in a dumpster and eventually a landfill. Food Cowboy uses the following scenario to describe the way their app works:
"The warehouse manager just told you not to take that last pallet of tomatoes off the truck – too ripe he says. So you post them on Food Cowboy, saying you're leaving for Abilene at 3 AM. Then you crawl in back and go to sleep. When you wake up you've got messages from three food banks along the way offering to take the tomatoes off your hands. One will even meet you at a truckstop and throw in a coupon for a free breakfast. We have a winner! Both you and the shipper will be credited with the donation."
Food Cowboy App: Connecting Food Companies with Charities
What it does: Food Cowboy seeks to end food waste by connecting companies that have food to donate with charities that support people in need.
How it works: Companies post food donations and locations on the app. Food Cowboy contacts nearby charities, and the company and charity arrange for a delivery, pickup or transfer. Food Cowboy's technology enables drop-offs and transfers along trucking routes, which expands its reach beyond one local area.
Why it's interesting: The platform allows direct interaction between the donor and the beneficiary. The company invests two-thirds of its revenue in food charities and waste-reducing businesses and technology.
What can be learned from the app: Facilitating interactions can be an effective, hands-off way to prevent food waste.
Created by: Roger Gordon, Barbara Cohen and Richard Gordon
Website: https://www.foodcowboy.com/
Cost: Free
Future of the app: The app's service area could be expanded to other countries.[BOX END]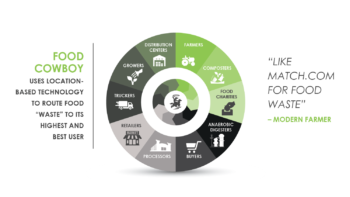 Similar innovative apps have been event-driven. For example, Operation Food Rescue launched an app called Food Connect that facilitates tax-deductible donations of leftover food to food pantries, food banks and community shelters during big events such as the DNC and the NFL draft. The 2016 DNC program collected 11,239 pounds of food in just eight days. 
Food Sharing
Foodsharing.de is an open source German website founded in 2012 by Valentin Thurn, a dumpster-diving filmmaker who saw great potential in the idea of sharing information about leftovers and free food via the internet. Operating as a nonprofit, the website enables individuals, supermarkets, restaurants, bakeries and food stalls to post information about leftover food and trade surpluses with one another, or to arrange pickups. Users are asked to rate the food products they receive in order to promote accountability. Foodsharing.de has almost 200,000 members and has helped prevent more than 50 million pounds of food from being thrown away.
A similar app in the United States, Leftover Swap, connected households with unused food. App users took photos of their food and posted it to the app with a pickup location. However, Leftover Swap was a for-profit business that was unable to sustain its model.
Solidarity Fridges: Swapping Leftovers via Public Refrigerators
In Galdakao, a small town in Northern Spain, the local government contributes a small budget to maintaining and supplying electricity for a "solidarity fridge," a public refrigerator that allows locals to swap leftovers. The refrigerator runs quite successfully on the honor system, and locals also abide by rules that prohibit leaving raw meat, fish or eggs. Homemade food must be labeled with a date and discarded after four days. A volunteer association takes responsibility for regularly cleaning the refrigerator.
Foodsharing.de also implemented a solidarity fridge program to complement its online platform with an offline infrastructure. The group set up a network of 100 food-sharing sites in Berlin and other cities, with public refrigerators and shelves to make pickups and drop-offs easier. These public refrigerators followed rules similar to those used in Spain, but these food-sharing sites were shut down in late 2015 by German public health authorities, who classified them as food businesses, which would require detailed documentation of everything put into and taken out of the refrigerator as well as naming an individual who would be held responsible if someone were sickened by a food product. Given the amount of use these refrigerators received, the volunteer-based network could not comply with those regulations.
The solidarity fridge model could perhaps meet such requirements if a digital system provided an automated log of who put food in, who took food out and when. [BOXEND]
OLIO is an app that connects neighbors with one another and with local shops to share surplus food rather than discarding it. As of mid-2019, OLIO's 1 million users have shared over 1.5 million portions of food.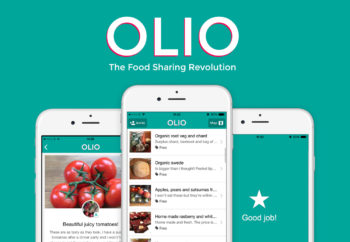 OLIO App: Connecting Residential and Retail Neighbors to Enable Food Sharing
What it does: OLIO connects people in need and retailers to facilitate the sharing of surplus food.
How it works: Users can post food items on the app to give away or sell; others can view the items and request what they want. Users can arrange exchanges in person or use OLIO drop boxes located in local establishments.  
Why it's interesting: There are community guidelines for what can be offered on the app, but there are no official regulations. Users receive rankings from other users with whom they have interacted to indicate how much experience they have using the app.  
What can be learned from the app: Accessible social forums allow the sharing economy to manifest in a safe manner.
Created by: Saasha Celestial-One and Tessa Cook
Website: https://olioex.com/
Cost: App is free; all food items are free to individuals or for donation to charity.
Future of the app: Although the app is available in 49 countries (including all of the United States), it is used primarily in the United Kingdom; the reach could be expanded.[BOX END]
Reducing Waste While Still Making a Profit
Other apps seek to prevent food waste by making products available to individuals at reduced prices. Too Good To Go is an app in the United Kingdom that enables users to order leftover meals from restaurants and stores at a steep discount (usually less than $5 per meal). Restaurants post that they have edible food they would otherwise thrown out, and users pay for a "magic bag" through the app and pick it up at designated off-peak times. Users don't know what's in the bag until they pick it up–so a bit of flexibility and a sense of adventure are required. Too Good To Go also provides recyclable packaging to participating restaurants. [Insert image # Too Good To Go]
The Flashfood app is a Canadian startup that connects surplus or ready-to-discard-but-still-safe food from grocery stores at discounts of up to 50 percent.
Food for All is a U.S. startup based in Boston and New York City whose model is similar to that of Flashfood but focuses on restaurants and cafes rather than grocery stores. It allows users to help reduce the amount of food ending up in landfills and eat great meals for as little as $4, all while "[doing] good for the planet."
FoodLoop, a European app, uses consumers' prior purchase history as well as their location and interests to match them with real-time deals and personalized offers. Their platform syncs grocery inventory systems with a mobile app to offers discounts on products with approaching sell-by dates.
FoodLoop App: Alerting Consumers to Reduced-Price Items with Upcoming Sell-by Dates
What it does: FoodLoop uses grocery inventory data to provide targeted deals for consumers based on when food will expire.
How it works: Using an algorithm that considers sell-by dates, the app encourages the optimal amount and type of products to purchase before they expire and must be thrown away. It then offers these deals to consumers based on personal preferences.
Why it's interesting: The app appeals to those in need of affordable food as well as those trying to prevent food waste at the grocery store. The software communicates with companies' retail platforms who opt into using FoodLoop for their business.
What can be learned from the app: Integration and usability are key for both companies and consumers.
Created by: N/A
Website: https://www.foodloop.net/en/
Cost: Free
Future of the app: As the app continues to collect more data it will be able to offer more personalized deals.
Spoiler Alert is an online marketplace where farmers and food businesses donate excess food to nonprofits or sell it at a discounted price. Spoiler Alert's Enterprise platform provides software that includes inventory management as well as accounting and reporting capabilities, with a reporting dashboard that helps donors keep track of financial information such as tax benefits, environmental impact and social impact.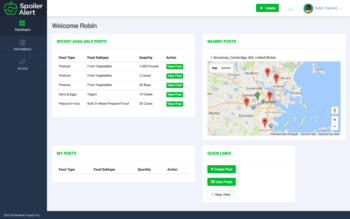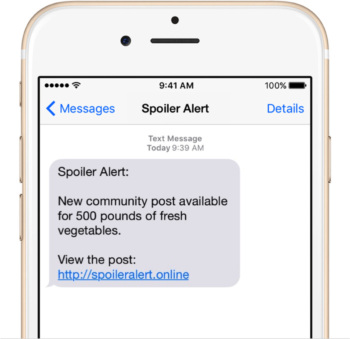 CropMobster is another platform that helps farmers and food entrepreneurs to offload surplus product at discounted prices. Their platform is designed to connect suppliers, producers and food businesses within a local community, such as at the county level. Their web-based platform sends alerts to subscribers within a given community when food is available, and these alerts are also shared with that community's social media subscribers for extended reach. Small businesses, nonprofits and individuals can also publish their needs, allowing producers to respond directly.
What the Research Shows: Food Recovery
A team of researchers modeled the food recovery system in Colorado and found that there is a threshold density of food donors required for an efficient rescue system; if there are too few donors or if what they have to offer is too different from what recipients want, the cost of rescuing the food increases. The researchers also found that there was a substantially greater amount of food available for donation than is currently being recovered. This highlights another potential application of the Uber-like model for piggybacking on existing distribution chain infrastructure to speed up and localize food recovery. 
Looking Forward: Tech Opportunities for Food Recovery and Food Sharing
Feeding people who are hungry or food-insecure with food that is safe and edible but would otherwise have been discarded is a win-win situation. An analysis by ReFED, a multi-stakeholder nonprofit that seeks to reduce food waste in the U.S., suggests that donation-matching software has the potential to save 150,000 tons of food or 250 million meals in the U.S. each year, representing an economic value of $432 million.
Donations to food banks often include an excess of particular types of products, and food bank recipients often cite the lack of variety as a barrier to maintaining a healthy diet. Furthermore, food banks often have their own challenges with unused and wasted food.
Digital applications can facilitate the real-time donation of surplus food to individuals or organizations that can in turn distribute it to those in need, while also ensuring that quantity, quality and variety are balanced. Real-time updates of the needs of a particular food assistance program would help channel donations to better meet those needs so that these programs could offer more nutritious, balanced meals to their clients. Furthermore, when dealing with produce and other perishable food items, time is of the essence, highlighting the importance of using technology to speed up these connections.
Business Models
While new technology solutions may hold great promise, there must be a sustainable business model in place that allows these programs to pay for their operations and the upkeep of their app or website. Food Cowboy funds its business model by taking a share of the tax deductions that food businesses can claim when donating food to nonprofits. The company then puts two-thirds of any profits into its own Food Cowboy Foundation, which helps pay for food banks' operating costs and provides grants for innovative food service models or waste reduction techniques.
Food Recovery and Sharing Platforms Are Regional by Nature
One challenge for these applications is that they must have enough users in a particular area to form meaningful matches. For example, OLIO, which started in the United Kingdom and is now available throughout the European Union, the United States, Canada, South Africa, Australia and New Zealand, has more than 80,000 users with more than 120,000 food items shared. When we attempted to use the app in New York City, however, the closest food donation site was more than 50 miles away. To address this problem and promote scalability, OLIO uses volunteers to champion the app in their neighborhoods. Food sharing is inherently a local endeavor, and innovations may thus be harder to scale.
Using APIs to Work Towards the Same Goal
Quite a number of apps and websites are working to match surplus food with demand. While having multiple players solving the same problem has its advantages, it can also mean that food donated through one platform goes to waste because of a lack of recipients, even though there are potential recipients using another platform. Recognizing that there are many of these food recovery networks, MEANS has set up its platform and database with an application programming interface (API) so that other apps can take advantage of its data. As MEANS states, "If you're building an app to help feed people, we want to help you focus on innovating rather than rebuilding the core infrastructure. As long as food on our system ends up in the stomachs of hungry people via your charity, we couldn't be happier." This type of collaboration and interconnectivity highlights a critical element of technology–that by leveraging what others have already built, technology components can be combined to create new solutions.
Given the prevalence of food insecurity in the United States and globally, reducing food waste through redistribution holds enormous potential to assuage hunger and malnutrition by helping to meet the food needs of a growing population.
Conclusions
Reducing food waste has gained considerable attention recently, and has enormous potential for impacting the food system's various stakeholders. Food waste is a problem to which almost everyone can relate.  It affects individual consumers as well as the profitability of retailers and farmers. Given the abundance of issues related to food waste, there have been a flurry of innovative solutions proposed.
However, all of the mobile apps described herein become more valuable the more they are used. For instance, food recovery and food sharing apps that require in-person exchanges of products are successful only when used by enough people in a given area. Individuals must be sufficiently motivated to open and keep using the app.
Indeed, in the past several years, the media attention around food waste and other successful publicity campaigns have led to impressive results. Foodsharing.de for instance, reported 15 million pounds of food diverted from landfills in 2016, and by 2019 they are reporting more than 50 million pounds of food diverted, with membership growing from 40,000 to more than 200,000 users! Olio's user base grew from 150,000 in early 2017 to more than 1 million in mid-2019.
These trends indicate that digital technologies can successfully recover a significant portion of wasted food and make it available at no cost to food insecure populations.