Get active this Int'l Food Workers Week November 23-29!
Learn, reflect and take action to support food workers.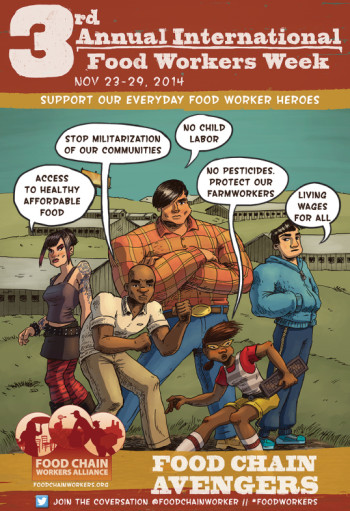 This year marks the 3rd Annual International Food Worker Week (IFWW) from November  23-29, started by the Food Chain Workers Alliance (FCWA) in 2012. 2014 is also the 5th Anniversary of the FCWA. IFWW is a week of events and actions designed to educate consumers about the challenges facing food system workers and to encourage them to take actions to support food workers.
The focus of this year's International Food Workers Week is Food Worker Heroes – everyday food workers who are organizing to stop child labor, to end the use of pesticides, and the militarization of communities from the U.S.-Mexico Border to Ferguson, and food workers who are organizing for living wages for all and access to healthy affordable food. To help promote  this year's International Food Workers Week, FCWA published a poster with an image of the Food Chain Avengers that will be visible in many high-road food businesses and organizations  around the U.S. (you can order a poster here).
A host of events and activities are being planned around the country ranging from movie screenings of the documentary "Food Chains", coming out in theaters nationwide and on iTunes in English and Spanish on November 21, to the release of the FCWA's new comic book "Food Chain Avengers" (order copies in English and/or Spanish here), over 1800 Black Friday actions by OUR Walmart workers and supporters, Campaign for Fair Food actions, and many others. Actions are online and in-person. Check out the Take Action section of their website for a full list of events and actions!
The Food Chain Workers Alliance is a coalition of worker-based organizations whose members plant, harvest, process, pack, transport, prepare, serve, and sell food, organizing to improve wages and working conditions for all workers along the food chain.
The Alliance was founded in July 2009.