Cross-posted from FSNYC

Talking Transition is an open conversation about the future of New York City.
Join the Talking Transition team at upcoming events and activities to share your questions, stories, and ideas for the city's future. Visit the Talking Transition tent (open from 9-5 daily through November 23) on Canal Street and Sixth Avenue, stop by their mobile tents as they make their way across the city, meet their street teams in all five boroughs, and discuss neighborhood issues at your local library. Events in the tent cover a broad range of issues from disaster recovery, health, housing, education, culture, poverty, and much more. For the full schedule of discussion happening at the tent, visit https://talkingtransitionnyc.com
Food-focused events happening in the Talking Transition tent are listed below. Look for NYC Food Policy Center Co-Director Janet Poppendieck!

Location: Talking Transition tent, Duarte Square, corner of Canal Street & 6th Avenue, NYC
Friday, November 15, 5:00 pm: Lunch 4 Learning – Students, educators, and community members are encourage to come to this interactive discussion about Lunch 4 Learning, a campaign for free and healthy school lunch for all. Download the event flyer here. Hosted by Community Food Advocates.
Sunday, November 17, 12:00 pm: Raise Your Voice – Food Policy Priorities for the New Mayor. Collectively discuss the state of the city on a variety of food issues and brainstorm ideas for the new Administration. Ideas generated by event participants will be shared directly with Mayor-Elect de Blasio transition team. This event is a great opportunity to engage with your fellow New Yorkers on issues of food justice and share your priorities with the new Mayor! Invite members of your community. Hosted by Just Food & NYU Wagner Food Policy Alliance. Check https://talkingtransitionnyc.com for more details. For questions about this event, contact Nadia Johnson at nadia@justfood.org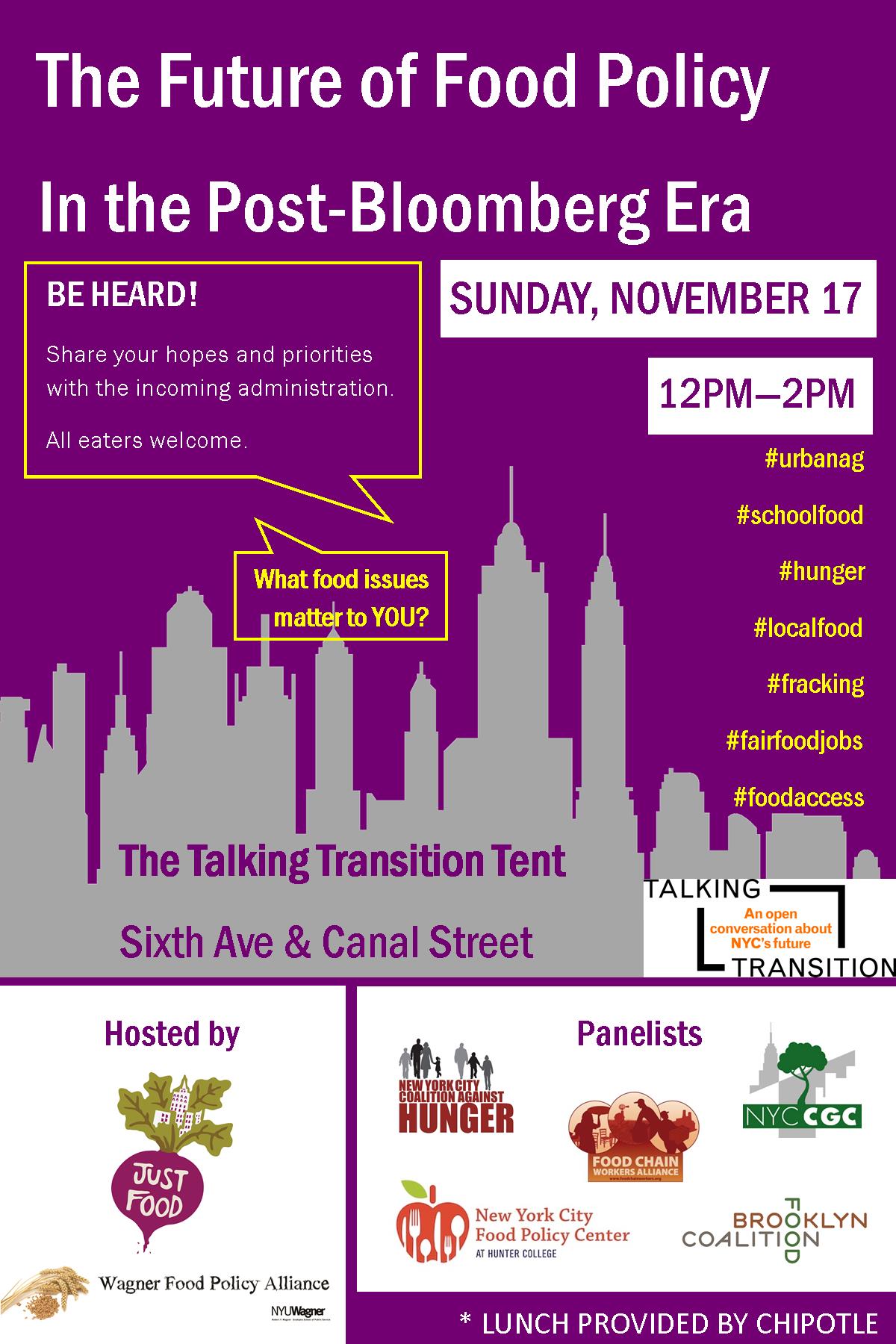 Other Events relevant to Food Policy/Healthy Communities/East Harlem:
More information:
The Talking Transition tent is open 9AM to 9PM every day of the week through November 23rd. Specific events and activities continue to change every day as more and more NYC experts, elected officials, community organizations, industry groups, and others are being scheduled to elevate the city's most important issues. All events are open to the public. Check https://talkingtransitionnyc.com for updated details
Watch Talking Transition videos (all of them!) here