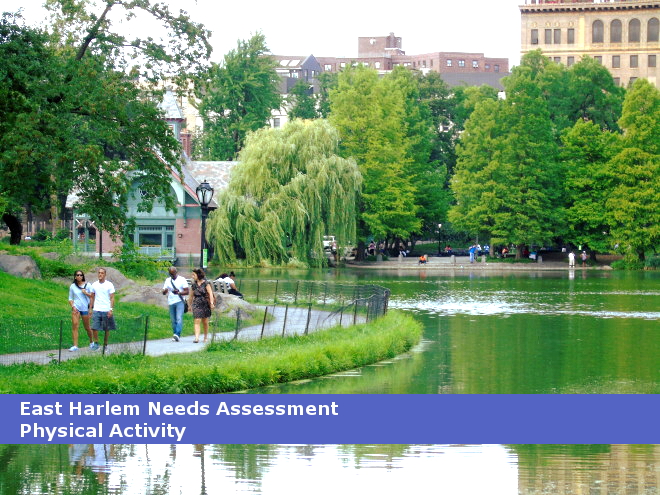 Several groups have assessed the need for more opportunities for physical activity in East Harlem. Here we present key findings and recommendations.
Key Findings
Safety concerns as well as individual barriers correlated with lower physical activity levels.
The more resources a child had available, greater the level of outdoor unscheduled physical activity.
Neighborhood physical activity resource availability differs by demographic factors, potentially placing certain groups at risk for low physical activity level.
Availability of select physical activity resources was associated with reported physical activity levels of East Harlem children but not with objective measures of physical activity.
East Harlem meets OSI standards in number of fields, courts, play areas, community gardens and permeable surfacing in parks but fails to meet standards in active, passive and total open space; walking distance to pocket, neighborhood and large parks, recreation centers, overall park maintenance and tree canopy coverage.
Key Recommendations:
Maximize public use of existing open space by developing an open space strategy for NYCHA Properties
Ensure that community gardens are truly public; continuing successful PlaNYC Open Space Initiatives;
Build upon and enhance existing open space resources.
Connect people to parks by making passageways to parks safer
Promote streets as connectors among parks; and expand access from East Harlem to Randall's Island.