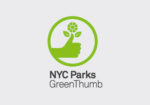 Address Line 2
Suite 3100
Phone Number
(212) 602-5300
Director, Manager or CEO
Carlos Martinez
Volunteers per month
20,000 volunteer gardeners stewarding 100 acres of publicly accessible open space
Number of staff/employees
As of July 2021, 33 full-time and 16 seasonal employees
Major Funders
Funded by federal Community Development Block Grants (CDBG) and City funds.
Latest Projects
GreenThumb supports community gardeners in organizing their garden groups through educational workshops, trainings, and materials. Many of GreenThumb's vast educational resources are available on our website.nnDuring the current pandemic, GreenThumb developed the following resources: nGreenThumb Compost Resource Guide - Learn more about the art and science of composting. This resource guide includes a compilation of webinars, videos, and publications from partners and compost experts.nnGreenThumb Group Development Toolkit: This toolkit includes many of our workshop handouts and webinar recordings, as well as many resources from partnering organizations, on topics related to group development. Topics include group structure, bylaws, conflict resolution, antiracism, decision-making, and more.nnGreenThumb Growing Food Toolkit: Includes dozens of readings and resources about growing food in a garden. Topics include crop planning, starting seeds, pest management, building raised beds, and more.nnGreenThumb YouTube Channel: Watch recordings of past events and webinars, as well as GreenThumb video series such as Propagating Crops in a Hoop House and Carpentry Tools 101.nnWebinar Videos: GreenThumb has been offering virtual year-round educational programming since the start of the COVID-19 pandemic. We've made most of them available to the public for viewing on-demand.nnWorkshops: Find all our upcoming workshops on the GreenThumb Events page.
Interesting Fact
GreenThumb community gardens can be found in all five boroughs in the city. Some are green spaces meant for relaxation and as a community meeting space, others are full–fledged farms, and many are a mix of the types. The vastly diverse network of volunteer gardeners is the backbone of our community gardening program that care for these unique public spaces.
Areas Served
Bronx, Brooklyn, Manhattan, Queens, Staten Island
Core Programs
GreenThumb has three teams that support gardeners and gardens: nThe Community Engagement team assists gardeners with community organizing and development, and they also help garden groups with special projects and connecting gardeners with a variety of available resources.
The Operations team provides material and operational support to community gardens by delivering garden materials and supplies, building new gardens from the ground up, preparing garden sites for planting, making repairs, caring for trees in gardens, or scoping projects in gardens.nThe Planning and Programs team provides gardeners access to technical skills, support, and resources needed to flourish, including large public events (GreenThumb GrowTogether Conference, Harvest Fair, and Open Garden Day NYC) and more than 150+ workshops and numerous volunteer projects.
Major Issues
Community Gardening, Community Engagement, Environmental Education, Urban Agriculture
Frequently used hashtags
#greenthumbgrows#greenthumbnyc