Green City Force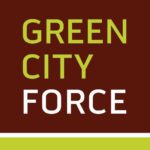 Organization Name:
Green City Force
Long Organization Description:
Green City Force's (GCF) mission is to break the cycle of poverty, preparing urban young adults to succeed in their chosen careers by engaging them in service, training and work experiences related to the clean energy economy. In doing so, GCF encourages them to lead socially and environmentally responsible lives.
We are working towards a "green city" built on principles of sustainability, social, economic and environmental justice.
Since 2009, Green City Force (GCF) has worked with the New York City Housing Authority (NYCHA) to engage 18-24 year old public housing residents in AmeriCorps service terms that benefit NYCHA communities and prepare them for careers in the green economy.
To date, GCF has engaged over 500 young adults. GCF's programs are rooted in the belief that young NYCHA residents are uniquely positioned through leadership, training, and service, to drive change in communities while building skills and experiences to help launch careers and achieve economic prosperity. We also believe that partnerships, with residents, agencies, local and city-wide organizations, funders and employers (public and private), are essential to achieve the holistic approach and change we envision.