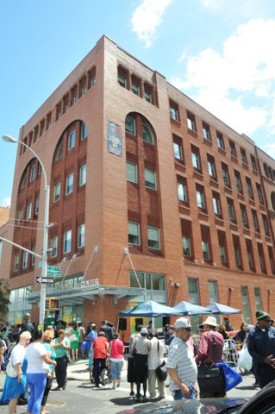 Boriken's mission is to provide the highest quality of comprehensive medical, dental, health education and social services to the residents of East Harlem without regard to the individual patient's ability to pay.

The East Harlem Council for Human Services, Inc. operates the Boriken Neighborhood Health Center, and various educational and nutritional support programs. The Boriken Neighborhood Health Center is a federally qualified health center which is designated by the National Committee for Quality Assurance as a Patient Centered Medical Home (Level 3). The Council also operates a School Health Program in local elementary/middle schools, a WIC Program, a Senior Nutrition Program (2 sites with food delivery to other sites) and a Head Start Program (2 sites with nutritious, delicious meals and snacks).
To learn more about this important East Harlem community organization, we interviewed the Boriken Neighborhood Health Center's Outreach Coordinator, Ricardo Concepcion.
Tell us about your food-related work.
All provider staff are conscious of common diets among patients which often include foods high in cholesterol, fat and salt. Boriken employs full time nutritionists who service patients, conduct workshops and food demos in and out of the Health center. Foods prepared at our Senior Nutrition and Bilingual Head Start Programs consist of delicious culturally diverse meals representative of the populations we serve, yet balanced to promote healthy eating. Since 1965, the Council has promoted healthy eating in East Harlem, and our WIC Program serves families within the third floor of the Health Center.
Tell us about a recent success you've had with your food-related work.
We recently visited a senior citizen center, which does not offer nutrition services, to introduce our health services. During our visit, the center Director informed us of profound hardships amongst the residents which impact their health due to available food choices and affordability. The Council helped by ensuring that those individuals were provided meals from our existing Senior Nutrition Program, beginning the very next day.
Tell us about a recent challenge you have encountered in your food-related work.
During the previous City Administration, budget cuts disproportionately affected seniors, and the level of grant funding for Senior Nutrition.
Any exciting new events or projects?
In celebration of National Nutrition Month, we are spending the month providing tons of food demos and recipe ideas throughout the Health Center. We are also utilizing our pediatric waiting area as an activity space to promote physical exercise and health activities!
Fact Sheet:
Core programs: The East Harlem Council for Human Services, Inc. manages a Bilingual Head Start program in two locations, a Senior Nutrition Program which services four senior citizen centers, a Women, Infants and Children (WIC) department and the Boriken Health center, which provide the following ambulatory care services: adult medicine; geriatrics; pediatrics; adolescent health; family medicine; obstetrics; gynecology (including diagnostic colposcopy); nutrition; dental; podiatry; dermatology; Psychiatry, hypertension clinic; onsite laboratory; social work and substance abuse counseling; comprehensive HIV-related education and outreach, counseling and testing, case management and primary care services and transportation. Our School Health Program operates clinics which offer medical and mental health services in three elementary/middle schools (P.S. 7, P.S. 112, P.S. 155). The Center maintains extensive referral relationships through which it coordinates the provision of services which are not available onsite.
Main Office Address: 2265 Third Avenue, New York NY 10035
Website: www.boriken.org
Full-Time Staff: 200
Volunteers: 3
Areas you serve: Our service area is East Harlem from 96th Street north to the Harlem River and from the East River to 5th. However, we see all patients with no geographic restrictions.
Founding Date: 1965
Founded by: East Harlem Community Residents