November 3, 2013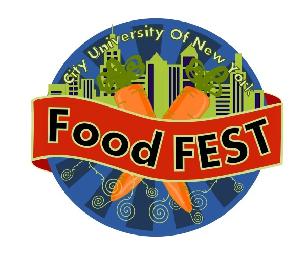 The 4th Annual CUNY FoodFEST will be held on
Sunday November 3 from 10:30am – 7pm
Macaulay Honors College 35 West 67th Street  New York City  10023
10:30am Registration and light breakfast
11am Keynote Conversation with Max Apton (Stone Barns Center) and Chase Emmons (Brooklyn Grange) moderated by Kelly O'Donnell
12pm Choice of three workshops:
-Composting with Liz Kelman, Compost Coordinator at
GrowNYC
-Hands-on Pickling with esteemed local picklers
2:15pm Choice of two discussions:
-Panel Discussion with Food Service Labor Representatives and Organizers
Followed by a vegetarian feast for all in attendance!
Registration is not required, but more information can be found here
Share your experience #FoodFest13
SERVING NEW YORK CITY: Perspectives from NYC Food Service Workers on the Present and Future of Workers' Rights and Organizing in their Industry The past few years have seen unprecedented food service worker organizing in New York City.
More than 2000 food service workers have unionized in the NY metro area's airports, casinos, restaurants, stadiums, and corporate and university cafeterias through UNITE HERE Local 100.
Hundreds of fast food workers walked off the job in a series of dramatic Fast Food Forward strikes, one the largest national strike actions ever among low-wage, non-union workers in the United States.
The Restaurant Opportunities Center New York (ROC-NY) has led restaurant workers in powerful fights against racism at Darden's Restaurant Group, the nation's largest restaurant company, as well as fights for wages and dignity at the Grand Cafe and other restaurants.
The Justice Will Be Served! campaign, a coalition of worker organizations has targeted numerous restaurants for unfair treatment of immigrant workers, especially those who make deliveries, and has won many victories, including against the giant Domino's Pizza corporation.
Workers from all of these campaigns will be speaking on the "SERVING NEW YORK CITY" panel at the CUNY FoodFEST 2013, which asks: What is happening in the NYC food service industry to cause this unprecedented worker mobilization among many of New York's most vulnerable workers? What has worked in the organizing and what hasn't? What does all this mean for the future of food in NYC?