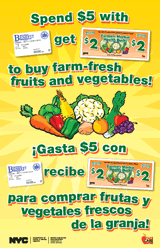 Health Bucks, $2 coupons redeemable for fresh produce at all NYC farmers' markets, help low-income New Yorkers access high-quality, fresh fruits and vegetables direct from our region's farmers. With almost 1 in 5 New Yorkers relying on SNAP and 1.5 million identified as food insecure, Health Bucks fill a critical need by making fresh produce more affordable for New Yorkers who benefit from it the most.
You can receive Health Bucks coupons to distribute in two ways:
Purchase Health Bucks coupons. Any organization can purchase Health Bucks. Each coupon costs $2.25 each ($2.00 value plus $0.25 processing fee).
Apply for a small number of free Health Bucks (approx. 200), contingent on availability.
Health Bucks are accepted at all New York City farmers' markets and promote access to healthier foods across the city. Organizations are required to link Health Bucks distribution to health and nutrition programming. The Health Department provides Health Bucks promotional materials including maps and posters of market locations with days and hours of operation and can offer technical assistance.  Ideas for ways to distribute Health Bucks are listed below.
Download additional information about purchasing Health Bucks, visit www.nyc.gov and search 'farmers' markets',  or contact the Health Department's Farmers' Market Program at farmersmarkets@health.nyc.gov.
Ways to Distribute Health Bucks
•             As part of cooking classes or as an incentive for participating in healthy eating workshops
•             Through a partnership with a local physician or nutritionist and as part of medical visits
•             As part of physical activity or sports programs for kids
•             As an incentive for participating in a walking club
•             As part of health screenings at a community or workplace health fair
•             At exercise classes for seniors