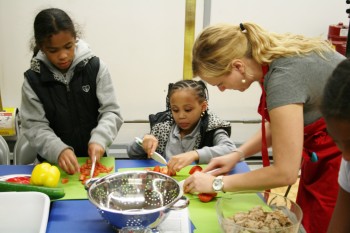 SCAN (Supportive Children's Advocacy Network) was founded in 1977 with a mission to provide at-risk families and children with integrated programming that uses a positive approach; harnesses individual strengths; and fosters responsibility, self-esteem, initiative, and the development of life skills. 
Tell us about your work?
The agency provides a variety of integrated supports to the highest risk children and families of East Harlem and the South Bronx.  Serving over 7,000 children and teens and 1,000 adults and families each year at 20 program sites, SCAN is the largest youth service provider in East Harlem and the South Bronx.
With programs as diverse as substance abuse treatment, violence prevention, literacy programs, afterschool activities and events, employment skills training, and youth leadership, SCAN's family-focused approach builds on individual and group strengths.
SCAN programs empower individuals and families, thereby fostering responsibility and initiative and enabling our community members to identify and achieve new goals.
Tell us specifically about the food-related work you do or services you provide.
SCAN currently operates two food pantries, one in East Harlem at our LaGuardia Settlement House, and one in the Bronx at the Mullaly Academy, which together serve approximately 1,600 youth, individuals and families each year. Our Johnson Cornerstone community center, in East Harlem, has also provided healthy food and nutrition programs for youth via partnerships with Mount Sinai School of Medicine, the Manhattan Borough President, the Fund for Public Health in New York and the New York Community Trust.
Any recent success you've had with your food-related work?
In October, SCAN held a three-day Healthy Food Fall Festival at our Johnson Cornerstone Community Center in East Harlem. Attended by over 100 NYCHA residents of all ages, the free events included healthy food and nutrition education. The events were developed in partnership with the New York City Food Policy Center at Hunter College and the NYC Housing Authority (NYCHA), and also included the participation of El Museo del Barrio, and Red Rabbit. The first event taught kids how to use food as art by creating stamps out of vegetables.  Children and parents were encouraged to create prints with their vegetable stamps and vote on ideas for new food ventures at NYCHA. The second night of the festival, kids and parents were treated to a 'no-cook' cook-off workshop with local partner Red Rabbit. They made massage kale salad, white bean tacos and other delicious meals made from fresh produce. The third event on the last day of the Healthy Food fall Festival was a teen workshop called "Stand UP!" Teens learned about the marketing tactics big food and beverage companies use to encourage consumption of their products. They were divided into groups and asked to create counter-marketing campaigns against companies such as Sprite, Cheetos and Monster Energy Drinks.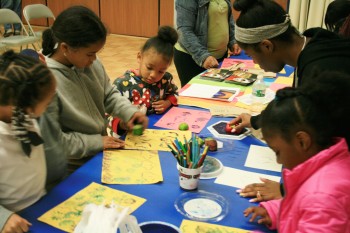 Any recent challenge you have encountered in your food-related work?
SCAN's most pressing challenging in doing food-related work is securing dependable funding, which is needed in order to be able to plan effective, long-term strategies.  Additionally, we find that re-connecting with residents who have been part of our past food-related activities to be very challenging, as low-income community members often move more frequently, and are not able to consistently maintain their telephone number.
Any exciting new events or projects?
SCAN's recent Food Fall Festival is part of a pilot project to develop a plan for resident-driven initiatives to increase access to and use of fresh healthy food in NYCHA communities. Funded by The Laurie M. Tisch Illumination Fund in partnership with United Neighborhood Houses, SCAN is working with NYCHA residents of all ages in a process that will identify the best strategies for future healthy food activities.
FACT SHEET:

Main Office Address:
Website:
Areas you serve:
SCAN New York
345 East 102nd St, 3rd Floor   New York, NY 10029
www.scanny.org
East Harlem and the South Bronx
Founding Date:
Full-Time Staff:
 Volunteers:
1977
109
 75-100


Core programs:
 Logo:
Community Centers
After School Programs
Youth Education & Mentoring
Violence Prevention
Early Childhood Education
LGBTQ
Substance Abuse Treatment
Domestic Violence Support
Workforce Development
Community Partnerships