Spoons Across America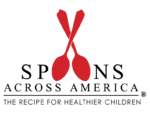 Organization Name:
Spoons Across America
Long Organization Description:
Spoons Across America® believes the best way to encourage better nutrition among children is to engage all their senses and feed their natural curiosity. Their programing awakens and inspires a lifelong passion in children to explore smarter, more nutritious and more diverse food choices. Spoons Across America® strives to improve children's relationship with food so that they may enjoy the benefits of healthier bodies, healthier lives, healthier families and a healthier community.