Brooklyn FoodWorks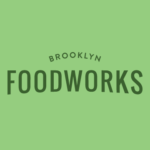 Organization Name:
Brooklyn FoodWorks
Long Organization Description:
Foodworks operates high fidelity culinary incubators across the United States. We provide specialized products and services to entrepreneurs in the food community to help them bring new companies and ideas to market.
Through our holistic approach, selected companies benefit from our flexible and affordable infrastructure, outsourced services, personalized mentorship, educational events and workshops as well as our vibrant community of culinary professionals looking to innovate the industry.
Foodworks is empowering the next generation of food entrepreneurs.