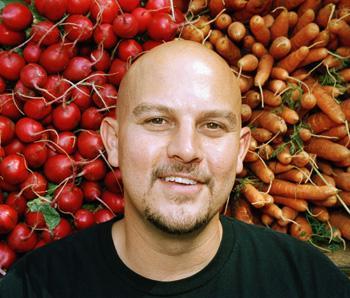 Michael Hurwitz is the Director of Greenmarket, a 40 year-old program of GrowNYC that operates 53 producer-only farmers markets throughout the five boroughs of New York City and the Wholesale Farmers Market located in the Hunts Point section of the Bronx. Greenmarket works with over 230 producers to preserve 38,000 acres of regional farmland by bringing the freshest and healthiest foods directly to NYC residents.
What motivated you to get involved with food policy and to become a food policy advocate? Was there a specific trigger or inciting incident?
I came to food from a social work and change agent perspective. I knew nothing about food policy prior to 2000 and discovered the power of agriculture while standing with a 16-year-old in a community garden in Red Hook, Brooklyn. The more I learned about sustainable agriculture it became rather evident that where our food comes from, how it's grown and who has access to it are the three most important questions to be answered over the next 30 years. It also became clear rather quickly that agriculture, and urban agriculture in this instance, could address many of the challenges this young man and his community were facing, concerning youth and adult unemployment, access to healthy foods, food sovereignty, waste management, after-school programming, education, and the list goes on.
Can you describe briefly describe what distinguishes Grow NYC's work in the community?
GrowNYC helps New Yorkers make small changes in their lives that have substantial impacts on the environment, whether shopping for sustainably raised food, composting, building a community garden, harvesting rainwater, and so much more. Our programs take place in parks, in schools, community centers, public and affordable housing facilities, playgrounds, street closures- you name it- in every borough in New York City. GrowNYC has incredible reach, touching the lives of millions of New Yorkers annually  and our work is incredibly diverse, yet complimentary, from educating young Bronx residents to become leaders of environmental and food justice in their communities, to our Office of Recycling Outreach and Education coordinating compost and textile collections at Greenmarkets, our Learn It Grow It Eat It project running Youthmarkets, school-based Recycling Champions and Grow to Learn school gardens, the incredible menu of programming at GrowNYC offers so much to enhance the City's quality of life.
Moreover, we are a truly mission-driven organization, willing to put ourselves out there and pilot new initiatives fully understanding that they may not work, but if not, it won't be for lack of effort and the lessons learned will be implemented to make existing or new programming that much stronger. In fact, many of our pilots result in city-wide initiatives and national models of best practice.
What do you believe to be the greatest food policy challenges for New York City? And the greatest opportunities? What is the one food policy change at the local (or state or federal) level that would have the greatest impact on health? What do you think are the opportunities for food advocacy in the deBlasio Administration?
Healthy food access for all New Yorkers has been a priority for GrowNYC since its inception. We've operated Greenmarkets in some of the lowest income communities in New York City long before the connection between food and health was as evident as it is today. Today, more than 40% of our markets are located in communities with less than average median household incomes. We know that lack of access to healthy foods has resulted in both hunger, as well as obesity and diet-related illness. To address this challenge from a practical standpoint, last year 20,000 New Yorkers spent $930,000 in SNAP at 51 Greenmarkets plus an additional $260,000 in Health Bucks. An additional $2.7 million was spent using the Farmers Market Nutrition Program. All of these programs increase the affordability of healthy food. GrowNYC operates 13 Youthmarkets, which are youth-run farm stands located in under-resourced communities where a full-serviced market may not be able to support itself (to be clear, we operate thriving Greenmarkets in lower-income communities; some locations simply are not best-suited for a farmers market). We also operate the Fresh Food Box Program, which provides the most affordable food option in New York City, whereby community residents can purchase a weekly bag of food for $10 that contains nearly $20 worth. And for those New Yorkers who cannot afford the food box, we donate nearly 1 million pounds to local pantries from over 40 markets.
As advocates, we are regularly educating the federal government on the need to maintain, if not increase, funding levels for the Farmers Market Nutrition Program, and we work closely with the City to ensure that the NYC Department of Health and Mental Hygiene's Health Buck program, a crucial incentive program that increases an individual's buying power for fresh fruits and vegetables by 40%, continues to be funded and championed.
All of this is critical work to address food insecurity, but it certainly does not address the root causes of that insecurity, which of course is poverty. And while this is a societal and systemic challenge, we play our part by paying our staff a living wage, our youth participants earn $10/hour and we continue to add jobs by developing innovative solutions to address food and environmental challenges and by delivering the highest quality programming.
The de Blasio administration has championed fairness and equity and bridging the gap. By addressing housing, wages and sick leave, it is attempting to change the dynamic of poverty. Specifically relating to food, the administration named Barbara Turk to be the City's Food Policy Coordinator. She fully understands the realities of New York City and her approach to food thus far exceeds all expectations. She also fully understands the role that fixed infrastructure plays in creating an efficient and accessible food system. It's the lack of infrastructure that we believe is the greatest food policy challenge for the City.
That said, we are incredibly optimistic as both the de Blasio administration as well as the Cuomo administration understand this.
The NYS Agriculture Commissioner, Richard Ball, has prioritized rural-urban linkages and the Governor has been investing in the farm economy like none of his predecessors. The New York State and New York City governments are aligned in their desire to improve the landscape of food in our region. They know that supporting agriculture, farmers markets, local procurement by institutions, infrastructure, and sound farm-level policies can have a huge impact on the regional economy.
Fact Sheet
What's the last Food Policy Book or website you read: My favorite will always be Stolen Harvest though I do like the Town that Food Saved
Your Current Location: We have 53 locations throughout the five boroughs, I'm writing from Chambers Street
Your Education: I have an MSW and JD
Your Favorite Food: Brussels Sprouts after the frost has hit them a few times
Your Website: www.grownyc.org