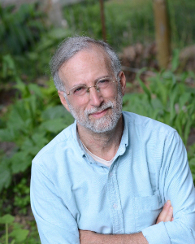 Gary Oppenheimer is the Executive Director and Founder of AmpleHarvest.org. As director of a community garden in 2009, he learned about the wasted food in many plots and created a local program called "Ample Harvest" to get the excess food to local food pantries. This program grew into a national, web based solution called AmpleHarvest.org, which uses the internet to educate, encourage and enable gardeners nationwide to share their harvest with 7,093 (as of late 2014) local food pantries – for the rest of their gardening life.
What inspired you to get involved in food? How did AmpleHarvest.org evolve into what it is today?
"Finish what's on your plate because kids are starving in Europe."   As a first generation American whose parents escaped from Germany, I grew up in the fifties with that. And since then it's been "China" and "India" and during the Johnson administration-"Appalachia." I was inculcated with the idea that food is something you don't waste because somebody else is hungry. It made no sense to me at the time. I said, "Give them the food" but that didn't fly with my grandmother. As a result, I use resources judiciously – today I apply that to food, time, emotions, energy and money. I'm very aware of resources and I think most people should be- but for me it's second nature.

Click here to read the complete interview +
Watch Gary's TEDx Manhattan Talk "AmpleHarvest.org- Changing the Way We Eat" and his Google Talk at www.AmpleHarvest.org/GoogleTalk.
Fact Sheet

Hometown: Yonkers NY, then (1978) the 79th Street Boat Basin in Manhattan
Current Location: West Milford NJ
Education: BS in Psychology, which pretty much accurately described the degree.
Favorite food: buttered roll and a home grown salad, accompanied by a Riesling. Or my grandmothers streusel chuchen.
What's the last food policy book or article you read?: Both the NRDC 2012 report on Food Waste and the 2015 USDA report on Food Waste.
Website: www.AmpleHarvest.org/local