Part of our Spring 2015 Food Policy for Breakfast Seminar Series.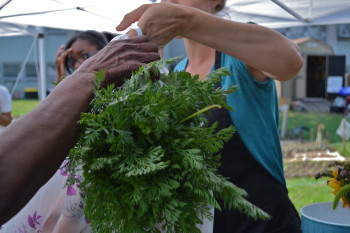 In celebration of Black History Month, this seminar will bring together academics and leaders in the food justice movement to discuss how race, racism and residential segregation influence access to healthy food and good food jobs in NYC. What promising approaches are emerging to reduce the impact of race and racism on healthy food access and other inequalities within our food system? What are opportunities for the food justice movement to find common ground with others working to end racism and other forms of inequality?
Panelists:
Dara Cooper, Director, NYC Food and Fitness Partnership
Diana Robinson, Campaign and Education Coordinator, Food Chain Workers Alliance
Naa Oyo A. Kwate, Ph.D., Associate Professor of Human Ecology and of Africana Studies, Associate Director, Center for Race and Ethnicity, 2014-2015, Rutgers, the State University of New Jersey
Simran Noor, Director of Policy & Strategy, Center for Social Inclusion
Moderated by Nicholas Freudenberg, Distinguished Professor of Public Health, CUNY School of Public
Health & Hunter College, and Faculty Director, NYC Food Policy Center at Hunter College.
Location: CUNY Graduate Center, 365 Fifth Avenue @34th Street, New York, NY 10016, Skylight Room, 9th Floor
Date: Tuesday, February 17, 2015
Time: from 9:00 AM to 10:30 AM (EST)
Programming begins promptly at 9:00am – arrive at 8:45 for open networking.