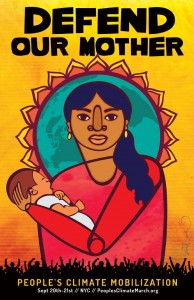 At Food Policy For Breakfast this month, the topic was Climate Change and Food.  The 2014 Climate Summit at the United Nations on September 23 provides an opportunity for scientists, government leaders, activists and concerned citizens from around the world to examine the common causes and identify the actions we can take to modify the underlying causes of three intersecting crises:  human-induced climate change, accelerating epidemics of chronic diseases, and growing food insecurity
At the seminar, three speakers explained the dimensions of the problem.  Mia MacDonald, Executive Director of Brighter Green, discussed the impact of climate change on global food insecurity.  Nevin Cohen, an Assistant Professor of  Environmental Studies at  The New School described how climate change influences the New York City food shed and the associated infrastructure(see below).  Finally, Mark A. Izeman ,  Senior Attorney and Director of New York Program at the  Natural Resources Defense Council  explored some of the responses to climate change here in New York City.
What are the common roots of climate change, food insecurity and chronic diseases?  Our economy's continued dependence on fossil fuels ensures that carbon continues to accumulate, accelerating rising global temperatures and their impact on weather, climate and human well-being. The global energy industry from Exxon to BP to Gazprom uses its economic and political power to thwart widespread implementation of alternatives.  Evidence shows that coal plays an especially important role in climate change yet countries like China, the United States and others continue to support coal production.  According to Greenpeace, the fossil fuel industry is planning 14 massive coal, oil and gas projects that would produce as much new carbon dioxide emissions in 2020 as the entire US, and delay action on climate change for more than a decade.
Hyperconsumption describes lifestyles and health behaviors that put people at risk of premature death and preventable chronic illnesses. Each year the tobacco, alcohol and processed food industries spend billions of dollars aggressively promoting their products around the world, despite the World Health Organization's finding  that increased consumption of tobacco, alcohol and unhealthy food are primary drivers of growing rates of chronic diseases, today's leading global killers.  The production and distribution practices of the food, alcohol and tobacco industries contribute to global warming and also magnify global health inequalities.
Autocentrism is the irrational promotion of automobiles as the main mode of human transportation. Despite growing evidence that active transportation like walking and bicycling and mass transit contribute to more physical activity,  better health, fewer emissions of carbon and other pollutants, and people-friendlier cities and towns, the automobile industry and the governments that support it resist pursuing alternatives at a scale that can achieve their benefits.
Industrial agriculture describes the transformation of food production from  small and medium size farmers and manufacturers to a system where giant multinational corporations like Monsanto, Cargill, Coca Cola, McDonald's, Nestle and Walmart  control every stage of our food system from patented seeds, monoculture farming, and integrated distribution to global marketing and retail outlets.  Industrial agriculture insists that the bottom line is their profit, not human need.  Its practices on fertilizers, transportation, meat production and global trade contribute to carbon emissions, diet-related diseases and food insecurity.
One reason that climate change, chronic disease and food insecurity have worsened in recent decades is that the industries involved and business and international trade associations they have created have coordinated a massive effort to roll back regulations that protect public health and the environment and discredit the science that documents the dangers the world faces.
Underlying these trends has been the growing concentration of wealth and power in the hands of corporations and the moneyed interests that own and control them. The synergistic impact of these developments has been a rise in inequality and declines in democracy, developments that make it harder to propose and mobilize public support for alternative policies.
Some who agree on the magnitude of the threats and the evidence on common causes of climate change, premature deaths from chronic diseases and growing food insecurity are reluctant to act  because they believe the problems are too big and complex and the perpetrators too powerful to make change possible.  But the acceleration of each of these problems results from human decisions made over the course of the last few decades.  And what people decide in one time, they can change in another.
To the chorus of the powerful that there is no alternative to the status quo the response of the majority must be that another world is possible.  By encouraging public discussion of the common roots of climate change, chronic diseases and food insecurity, we can begin to shine a light on the actions that will lead us to that other world.
Every generation is judged by the world we leave our children and grandchildren.  The decisions we make in the years to come will determine whether our legacy is shortened lifespans, growing hunger, and further deterioration of the environment that supports life. Or we can decide that our gift will be better health, food security and a more sustainable planet.  The choice is ours.
Another World is Possible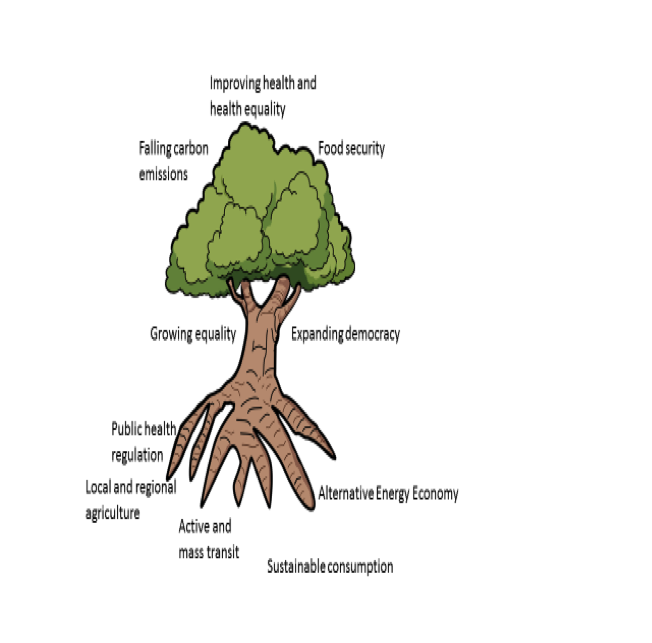 By Nicholas Freudenberg, Faculty Co-Director, New York City Food Policy Center
For more information, read the recent Lancet summary on climate change and health and Chapter 7 on food security and Chapter 11 on Human Health from the Intergovernmental Panel on Climate Change, 2014.