Good Food Jobs
The Center's Good Food Jobs Project seeks to translate the recommendations from our 2013 report,  Jobs for Healthier Diet and a Stronger Economy into policies and practices that increase the number of food sector jobs in New York City and elsewhere that pay a living wage, protect the health and safety or workers, and make healthy food more available and affordable to all.
The Project welcomes inquiries about possible collaborative projects from community and worker organizations, workforce development programs, city agencies and others who seek to grow more good food jobs.  The resources below provide more information on food jobs and good food jobs.
The New York City Labor Market Information Service,(NYLMIS) based at the CUNY Graduate Center, develops research to help policy makers and others to make sense of the city's labor market and make informed decisions that benefit their constituents and the City's economy.
Recent reports include:
---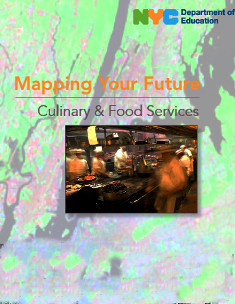 Mapping Your Future Culinary and Food Services Labor Market Trends in New York City's Food Industries
Presentation by Leslie Hirsch, Director NYLMIS, at Just Food Conference, Teachers College, Columbia University, April 6, 2014 at panel organized by NYC Food Policy Center.
2. Download Mapping Your Future Brochure
---
A report released by the Race Forward (formerly the Applied Research Center) finds stronger collaboration is needed between movements for "good food" and "good jobs" in order to advance racial and economic equity in the food system
---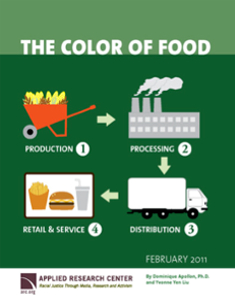 The Color of Food
Another report by the Race Forward recently embarked on a broad survey of the food system, to map out the race, gender and class of workers along the supply chain. Our findings, detailed in the new report "The Color of Food," were sadly not surprising.
---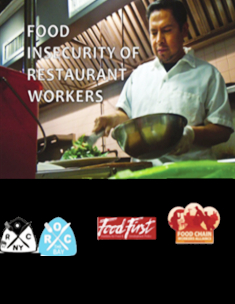 Food Insecurity of Restaurant Workers 
Report from the Restaurant Opportunities Center -July 2014- (ROC) that provides a  comprehensive look at food security and employment conditions of workers in the restaurant industry. Based on more than 280 surveys and interviews with restaurant workers in New York City and the San Francisco Bay Area, the report highlights the crucial ways in which  restaurant workers' employment conditions affect their ability to feed themselves.
---
Saru Jayaraman explores the political, economic, and moral implications of dining out. Jayaraman describes five individual food workers to illustrate the class, race and gender divides.
---

Good Food Jobs
Job search engine designed to link people in search of meaningful food work with the businesses that need their energy, enthusiasm, and intellect. It is dedicated to changing the world, one hard worker at a time.