City-Wide Partner Organizations and Coalitions
We work with institutions, organizations, coalitions and agencies whose work spans across zip codes to advance our shared goals.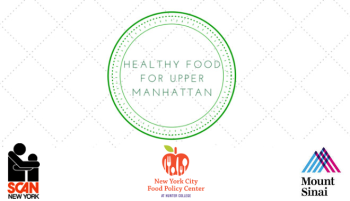 A collaboration between the NYC Food Policy Center at Hunter College, SCAN-NY, The Partnership for a Healthier Manhattan at Icahn School of Medicine at Mount Sinai. Healthy Food For Upper Manhattan (HFUM), is a workgroup and collaborative space focused specifically on food-related work in Upper Manhattan. This joint effort seeks to address the availability and quality (affordability and desirability) of healthy foods in Upper Manhattan. We aim to bring together expertise and collaborate on targeted local campaigns related to food and health.
Learn more about this new work group>>
Healthy Food for Upper Manhattan Visioning Session
Monday November 23rd 3:30- 5:00 PM
Room L2-82, 1425 Madison Ave
Join the Healthy Food for Upper Manhattan planning team to shape the vision and mission of HFUM and establish goals for the upcoming year. Email hfumworkgroup@gmail.com to RSVP.
---