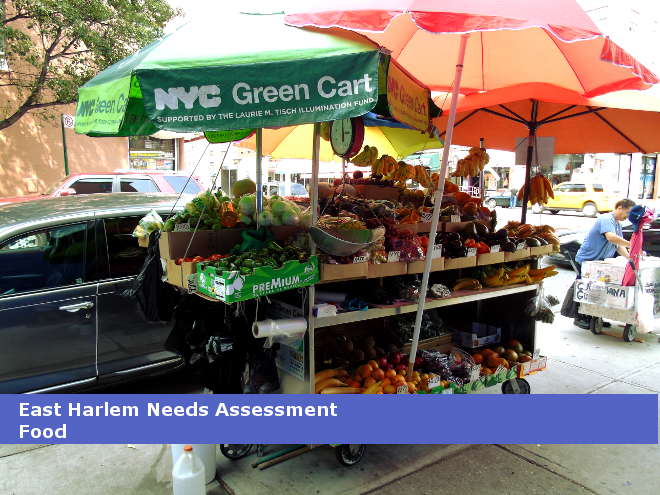 Several groups have assessed the food environment and landscape and made recommendations to improve access, affordability and promotion of healthier foods in East Harlem. Here we present a summary of findings and recommendations.
Key Findings:
In 2004, 92% of East Harlem emergency food programs reported an increase in demand over the previous year
The death rate from diabetes in East Harlem has grown more than 230% in the last decade, twice the city average.
Diabetes-related amputations in East Harlem are now five times the city average. According to United Way of NYC, Food Stamp program participation rate among eligible East Harlem residents in 2004 was just 63%, thus more than 7,000 East Harlem residents who are eligible for Food Stamps benefits but do not receive them.
Presence of convenience stores near a child's residence in EH was associated with a higher BMI-percentile.
Inequities in food store availability exist by race/ethnicity in East Harlem, New York.
Bodegas are more abundant and supermarkets less common in East and Central Harlem compared with the Upper East Side.
Recommendations:
Renovate La Marqueta and create the environment to attract an anchor tenant that will create foot traffic at La Marqueta.
East Harlem's workforce development infrastructure must address the needs of a large number of residents who require employment. Local employment and training organizations and the Department of Small Business Services should work to connect local residents to employment opportunities in growth industries and local development-based employment.
City agencies that regularly enforce codes and regulations that impact small businesses must create forums where local merchants can be educated on current and changing agency rules and solicit feedback from merchants with complaints of unfair treatment.
Increase availability of fresh and healthy foods in East Harlem by promoting and marketing the City's FRESH program and by expanding the DOHMH's healthy bodegas initiative in East Harlem.
Additional funding should be targeted to expand existing community-based peer-led interventions to promote weight loss and prevent diabetes.
Additional funding is needed for home health aid programs in East Harlem to expand the number of available aides and also pay higher wages to attract quality professionals who can assist seniors in their daily activities.
Plan for economic opportunities particularly on vacant lots, including the Park Avenue corridor
Provide healthier offerings at local food establishments, especially in neighborhoods with few healthy food options.
Promote consumer demand for nutritious food at affordable prices through education and social marketing.
Encourage new venues for purchasing healthy foods.