Reclaimed Organics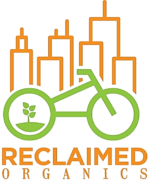 Organization Name:
Reclaimed Organics
Long Organization Description:
Reclaimed Organics is a compost collection service for residents and businesses in Manhattan, servicing Battery Park to 110th Street, east to west. This is a fee-for-service with a weekly pickup schedule, open to anyone who wants to divert their food waste from landfills. Our haulers use electric assist and manual pedal bikes and cargo trikes to collect food scraps. This material is consolidated and processed either onsite in our community garden HQ in the East Village or transferred to Earth Matter on Governors Island or McEnroe Farms upstate. RO also manages a compost Pop Up Drop Off at West 107th and Columbus Ave every Wednesday, 4 – 6 PM. This is a give-what-you-can service staffed entirely by RO, for residents seeking food scrap diversion in that neighborhood.
Reclaimed Organics is the hauling division of Common Ground Compost, a zero waste services company, specializing in program and infrastructure design, waste diversion education, data management and analytics, and zero waste system implementation. In addition, CGC offers consulting, staffing and equipment to support numerous zero waste public events throughout the City. CGC advocates for environmental justice through waste equity, supporting the health and sustaining the growth of urban communities. CGC is a founding member of the NYC Microhaulers and Processors Trade Association (MPTA).