Public Health Solutions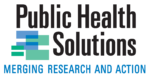 Organization Name:
Public Health Solutions
Long Organization Description:
Health disparities among New Yorkers are large, persistent and increasing. Public Health Solutions (PHS) exists to change that trajectory, and support vulnerable New Yorkers in achieving optimal health and building pathways to reach their potential.
As the largest public health nonprofit serving New York City, we improve health outcomes and help communities thrive by providing services directly to vulnerable low-income families, and supporting 200 community-based organizations through our long-standing public-private partnerships.
We focus on a wide range of public health issues that overwhelmingly affect the ability of underserved New Yorkers to live their healthiest life. These issues include food and nutrition, health insurance, maternal and child health, reproductive and sexual health, tobacco control, and HIV/AIDS.