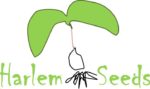 About
Harlem Seeds is dedicated to teaching children how to grow and prepare healthy food. Our organization is community oriented and through working with Harlem youth, we nurture their confidence and leadership skills so they can be advocates for healthy change in the community.
Our program brings to light the connection and impact that our consumption of food has on our health, environment, and community.
At Harlem Seeds we understand the importance and urgency to connect children's relationship to food with the growing process and agricultural practices. We bring the program to your school, church, and youth organization with offerings in the summer, fall, and spring with access to gardens and farms.
Harlem Seeds knows that healthy eating and living is a right, not a privilege. It is our mission to inform our youth and community that they have the power to choose to nourish their bodies with clean, safe, and healthy food.