Food Chain Workers Alliance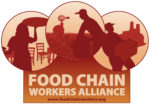 Short Organization Description:
The Food Chain Workers Alliance is a coalition of worker-based organizations whose members plant, harvest, process, pack, transport, prepare, serve, and sell food, organizing to improve wages and working conditions for all workers along the food chain. The Alliance works together to build a more sustainable food system that respects workers' rights, based on the principles of social, environmental and racial justice, in which everyone has access to healthy and affordable food.
Long Organization Description:
The Food Chain Workers Alliance believes in a truly sustainable food system, one that can provide healthy and locally made food, and that has the potential to lift up communities, workers, and our shared environment. A food system that is democratically controlled by communities would produce food that everyone needs to lead productive lives. To encourage a vibrant and sustainable local economy, food enterprises should be cooperatively owned. Taken together, this would lead to jobs that have dignity, livable wages, and meaning for workers and would create a food system that works for all. This food system can be created only through worker organization and solidarity, led by women, people of color, and other frontline workers.
Our food system should:
1. Be democratically controlled by the communities it impacts and is driven by the workers that create the food
2. Be managed by more cooperative ownership, less private ownership
3. Provide local, healthy, sustainably produced food that is beneficial to both people and the environment.
4. Be one in which all work with dignity, livable wages, meaning, and the right to organize free from intimidation and harassment.