Community Food Action at New Settlement Apartments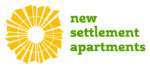 Organization Name:
Community Food Action at New Settlement Apartments
Long Organization Description:
New Settlement Apartments is a 30-year-old settlement house with a demonstrated commitment to affordable housing and community development in the Southwest Bronx. We collaborate with community residents and develop strategic partnerships that celebrate the inherent dignity and potential of individuals and families.
Community Food Action's vision for impact is an alternative food system, by and for communities, that nourishes the people and supports community development, climate protection efforts, and quality of life.  The program takes a comprehensive and multidisciplinary approach to food justice in our neighborhood. We embed hands-on food education into local institutions, develop community leadership, and create opportunities to grow, purchase, eat and compost good food.