Careers Through Culinary Arts Program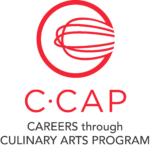 Organization Name:
Careers Through Culinary Arts Program
Short Organization Description:
C-CAP's mission is to promote and provide career opportunities in the foodservice industry for underserved youth through culinary arts education and employment.
Long Organization Description:
Established in 1990, C-CAP exists to provide a pathway for underserved high school students to the culinary and hospitality industry. C-CAP partners with high school districts in New York City, Los Angeles, Philadelphia, Arizona, DC, and Chicago to supplement existing culinary arts courses with opportunities for internships, chef mentoring, job shadowing, and college and career advisement. our mission is to empower our students to follow their ambitions and give them every resource possible to achieve them.